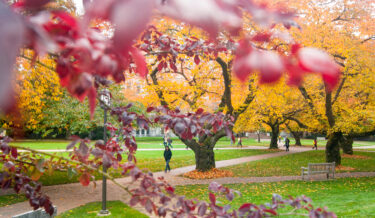 Associate Professor of Landscape Architecture Thaisa Way has been appointed chair of the Dumbarton Oaks Fellows in Garden and Landscape Studies. Way, who has been a Senior Fellow with Dumbarton Oaks since 2011 will serve a one year term.As one of six Senior Fellows, the group serves as advisors to the Director of Dumbarton Oaks in relation to the Garden and Landscape Studies Program.
As chair, Way will play a guiding role in the fellowship selection process and work with Senior Fellows to foster and nurture scholarship in urban landscape histories. "We provide opportunities for scholars to come and fully immerse themselves in their studies, in one of the world's best landscape libraries and rare books collections," Way said.
The Dumbarton Oaks Research Library and Collection is a research institute in Washington D.C. overseen by the Trustees of Harvard University. The Garden and Landscape Studies program was established in 1972 to support advanced scholarship in garden history and landscape architecture. Dumbarton Oaks is one of the few institutions in the world with a program devoted to garden and landscape studies that is targeted at both humanities scholars and landscape practitioners. The program encompasses the analysis of culturally and artistically significant landscapes from around the world, spanning from ancient times to present day.
In her role as a Senior Fellow, Thaisa Way will curate a collegium on histories of drawing in landscape architecture, focused on urban landscapes in fall 2017. Previously, Dr. Way was the lead for the spring 2015 Dumbarton Oaks Garden and Landscape Symposium "River Cities: Historical and Contemporary."
Along with Thaisa Way, Dumbarton Oaks Senior Fellows include: John Beardsley, Dumbarton Oaks; Sonja Dümpelmann, Harvard University; Georges Farhat, University of Toronto; Kathryn Gleason, Cornell University; Gert Gröning, Universität der Künste Berlin; Ron Henderson, Illinois Institute of Technology.
For more information contact Allie Rock in the College of Built Environments Advancement Office at: rocka2@uw.edu or Thaisa Way at: tway@uw.edu