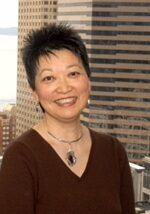 Diane Sugimura, MUP '07 spent 38 years working for the City of Seattle and for the last 14 years of her career led the City's Department of Planning and Development (DPD), responsible for the full range of development activities.
During that time, she worked with six mayors and through the economic highs and lows experienced by our changing metropolis. "When I started at the City, it seemed that each year the powers-that-be would question whether we needed a planning function and if so, how it should be organized, what its responsibilities should be, and of course, how to fund the programs," Sugimura said. It was a disheartening experience during those early years when the City was debating what to do about planning in Seattle.
Sugimura explains her career in planning came from her desire to contribute to positive change in her community and despite hurdles, she stayed committed. "My early mentor, Beatrice Ryan, had faith in my ability to learn and grow, and challenged me to challenge her during policy discussions. Since then, I have relied on a range of deputy mayors and mayors' chiefs of staff for advice and assistance. While each administration was different, and the people unique, there was something to learn from them all," Sugimura said.
In 2002, Mayor Nickels re-organized a number of City departments and brought planning and development together for the first time, and asked Sugimura to lead the new department. She believes the change was significant and facilitated an improved relationship between the two functions, streamlining coordination between the development of policies and new codes, with the implementation of those policies. Not everything worked the first time around, particularly on leading-edge ideas, like in the mid-1980s when the department was proposing the integration of mixed-use development projects.
In addition to the re-org, Mayor Nickels introduced the Race and Social Justice Initiative to all City employees, a bold new plan, which first looked internally at how City employees worked together. Sugimura explains the change was big and took time for the City family to evolve.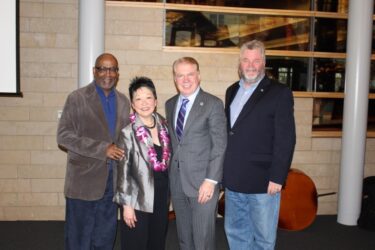 Another change, implemented in 2006, was to bring the City's interdepartmental Green Building Team together to work within the DPD. New policies and programs were adopted, such as green factor landscaping provisions inspired by a program in Berlin, Germany. Continued work on stronger energy codes, regulations to encourage smaller more efficient structures, new built green and LEED standards, additional support for use of alternative transportation options, and the Living Building Challenge ordinance, were all put in place.
In correlation with the updates, one of Diane's most important projects was to help lead the redesign of the City's comprehensive plan, now called Seattle 2035. She explains, the new plan better recognizes the value of urban villages and continues the commitment to support this strategy, encouraging development where infrastructure investments have been or will be made.
Sugimura said the City was committed to keeping the same four core values in mind – building community, economic opportunity, environmental stewardship, and social equity. The values are the same, but some of the emphasis has changed, such as adding "race" to social equity. "While our values haven't changed, our demographics have and the equity gap has expanded. A great city is only sustainable if a broad range of people can live, work, and enjoy the city together," Sugimura said.
To foster equity, Sugimura and her team analyzed the city, defining areas with low or high access to opportunity, and low or high risk of displacement. With the 2016 creation of the Office of Planning and Community Development, land use planning must now go hand-in-hand with transportation strategies, human services, public health, economic development, arts and culture, all in conjunction with working with the people of Seattle to build community, an approach Sugimura supports.
Through the changes, Diane kept her team focused on advocating for improved land use planning, coordinating with transportation alternatives and investments, working for more affordable housing options, strengthening neighborhoods, and becoming a climate-friendly city. And because of that focus, Sugimura left a legacy that exemplifies collaboration, inclusiveness, and opportunistic growth. Sugimura also acknowledges that not everyone in the city agrees with the changes that the City has put in place, but is confident the City has been, and is, heading in the right direction.
And while she retired from her position as director of DPD in 2015, she's staying involved. She's an active member with the Wing Luke Museum of the Asian Pacific American Experience, an organization she's been involved with since the early 1970s.
Sugimura also says her perspective has changed a bit. She's now more interested in the people side of planning and how communities work and interact. She is currently chairing the Yesler Terrace Citizen Review Committee, which is looking at what it takes to create a successful neighborhood and will be participating in a tutoring program for Yesler residents. "Being involved with community activities helps bridge my personal and cultural interests, with my professional work in areas of community building, historic preservation, economic development, and helping to grow in an equitable way," she said.
Diane Sugimura will deliver the College of Built Environments annual Dean's Distinguished Lecture on Tuesday, February 7, 2017 at 6:00pm in Architecture Hall, Room 147. The title: "The Portland Livestock Yard, The Move to Seattle, The Pike Place Market and Capitol Hill: What's Planning Got To Do With It?"
Diane Sugimura holds a bachelor's and master's degree from the University of Washington and a master's degree from Oregon State University. In 2013, she was named a Living Building Hero by the International Living Future Institute and was honored as a Cascadia Fellow by the Cascadia Green Building Council. In 2016, she received the Municipal League Foundation's Public Employee of the Year Award.