Three Urban Design and Planning faculty have published new books that cover long-term planning efforts, the complexities of intersecting ecology and the built environments, and what individuals can do to help planners make smart decisions.
Cities That Think Like Planets: Complexity, Resilience, and Innovation in Hybrid Ecosystems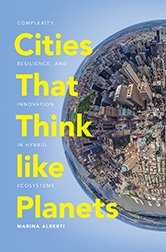 By Marina Alberti, Professor of Urban Design and Planning and director of the Urban Ecology Research Lab
As human activity and environmental change come to be increasingly recognized as intertwined phenomena on a rapidly urbanizing planet, the field of urban ecology has risen to offer useful ways of thinking about coupled human and natural systems. Bridging the fields of urban planning and ecology, Alberti describes a science of cities that work on a planetary scale and that links unpredictable dynamics to the potential for innovation. It is a science that considers interactions – at all scales – between people and built environments and between cities and their larger environments.
University of Washington Press
Learning from Bogotá: Pedagogical Urbanism and the Reshaping of Public Space
By Rachel Berney, Assistant Professor of Urban Design and Planning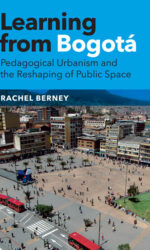 Once known as a "drug capital" and associated with kidnappings, violence, and excess, Bogota, Colombia, has undergone a transformation that some have termed "the miracle of Bogota." Beginning in the late 1980s, the city emerged from a long period of political and social instability to become an unexpected model of urban development through the redesign and revitalization of the public realm-parks, transportation, and derelict spaces-under the leadership of two "public space mayors." Berney shows how, through the careful intertwining of new public space and transportation projects, the reclamation of privatized public space, and the refurbishment of dilapidated open spaces, the mayors enacted an ambitious urban vision for Bogota without resorting to the failed method of the top-down city master plan.
Seeing the Better City: How to Explore, Observe, and Improve Urban Space
By Charles Wolfe, Affiliate Associate Professor of Urban Design and Planning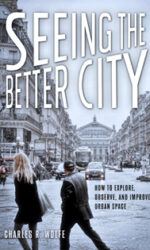 While big data, digital mapping, and simulated cityscapes are valuable tools for understanding urban space, using them without on-the-ground, human impressions risks creating places that do not reflect authentic local context. Seeing the Better City brings our attention back to the real world right in front of us, focusing it once more on the sights, sounds, and experiences of place in order to craft policies, plans, and regulations to shape better urban environments. Through clear prose and vibrant photographs, Charles Wolfe shows those who experience cities how they might catalog the influences of urban form, neighborhood dynamics, public transportation, and myriad other basic city elements that impact their daily lives.