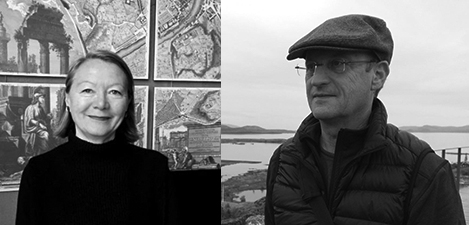 Robert Wallace, B.A.E.D. '77, M.Arch. '83 and his wife, fellow UW graduate Christina Wallace, '85 have spent the last 24 years in charge of restoring and preserving one of the oldest continuously operating military posts in the United States – the Presidio of San Francisco. Now converted to a national park, the 1,491 acre Presidio and nearly 800 buildings is now home to 3,000 people and 225+ businesses. Rehabilitated and converted spaces also include museums, schools, cultural and learning centers, a hotel, numerous recreational facilities, art installations, hiking trails and a campground. As the Associate Director of Architecture for the Presidio Trust, Robert has managed the majority of the park's rehabilitation projects. Christina also works for the Presidio Trust as the Senior Preservation Project Manager.
How you came to work in preservation?
Rob: My pre-professional UW degree was focused on architectural design without much emphasis on existing or historic buildings. But before returning to graduate school my first projects as an intern architect in Seattle all involved historic buildings and I think that initiated an appreciation for the challenges of working with the constraints of existing conditions. It wasn't until my graduate studies and the influences of department faculty who emphasized the study of history and urban form that my interests gravitated towards this area of the profession. Since becoming licensed in 1985, I have worked on numerous new buildings and additions but I estimate that 80 percent of my professional portfolio has involved the rehabilitation and adaptive reuse of historic buildings in an urban context. Of course, having a preservation specialized spouse has also been a major influence on my interests in historic preservation!

Christina: After graduating from UW in 1985 with a degree in Architectural History from the College of Arts and Sciences, I went directly to graduate school at Columbia's Graduate School of Architecture, Planning and Preservation in New York. I had always been interested in history, architecture and preservation and knew that Columbia offered the best program, coupled with the fact that Rob and I both wanted to live and work in New York City. I graduated with a Master of Science in Historic Preservation, with a concentration in Conservation. We both worked in New York City until moving to San Francisco in 1992.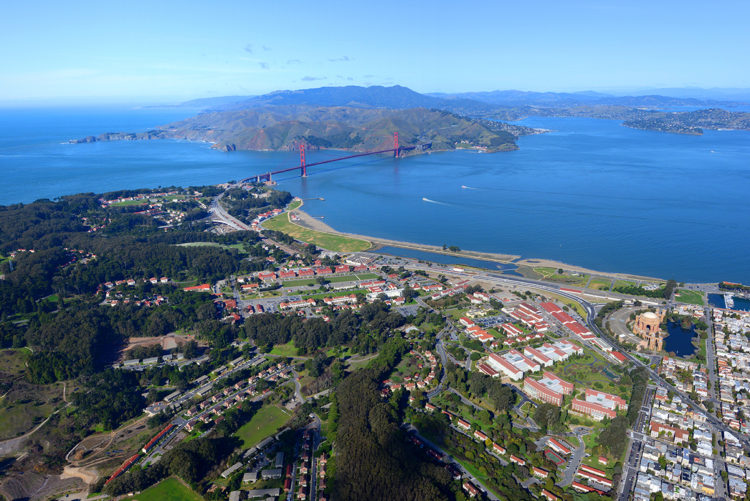 What Presidio projects are you most proud or found most challenging?
Rob: I'm most proud of being the primary Presidio architect since the beginning of this amazing transition, even before the Army transferred the post to the National Park Service in 1994. As a group, we have since rehabilitated over 350 of the historic buildings and I have had some sort of design management role on all of these buildings. I often say that the current project is the most challenging but our current project is proving to be pretty darn challenging. We are converting an 1895 brick barracks to a 42 room lodge for park visitors, using carbon fiber, shotcrete and micropile seismic reinforcing methods while protecting an archeologically sensitive site under the basement. And we will have some very interesting and unusual guest rooms too. Come visit us!

Christina: I have been at the Presidio for 10 years and have worked primarily on the oldest structures with the most complex preservation and conservation issues. The most challenging was the rehabilitation of the Officers' Club, including the seismic strengthening of the original adobe walls. I recently completed the new Presidio Visitor Center, where we rehabilitated an original guard house (jail) into a new use open to the visiting public.
Why is the Presidio important?
Rob and Christina: The entire Presidio of San Francisco is designated as a national historic landmark, the highest level of historic recognition in America. Not just because it is one of the oldest continuously occupied military installation in the U.S. (founded by the Spanish in 1776) but because of its amazing variety and quality of military buildings and landscapes of all types in a spectacular location. The buildings themselves are not monumental or particularly unusual but the collection of so much in this one strategic location is what makes it special. So we don't have many individual landmarks, but the whole is a landmark.

Another aspect to note is that our special enabling legislation required the Presidio Trust to become financially self-sufficient within 15 years of transfer or the entire site would be disposed of as surplus government property. I am very proud to say that the Presidio Trust accomplished this goal in 12 years and, with the National Park Service, we are successfully preserving the Presidio for future generations to use and enjoy.
Do you have a favorite memory of UW?
Rob: There are too many, but here are a few: The camaraderie of the students in the design studios, good coffee, using the city of Seattle as an opportunity for projects, getting the Architecture Thesis Award, more coffee and of course, the Architecture in Rome program, which can be a truly life changing experience.

Christina: Attending the Architecture in Rome program was a highlight of my UW years, not only the time spent in Rome, but the preparation classes before and the annual fund raising dinner back in Seattle. At that time the students prepared the entire meal, including making the pasta by hand! It was a labor of love.
Watch Robert and Christina's lecture, part of the Department of Architecture's 2016 Winter Lecture Series – The Presidio – Lessons from the Presidio of San Francisco: Building Rehabilitation and Adaptive Reuse.