For 12 CBE students, their home, studio, and living laboratory for winter quarter was Mexico City. With a population of almost 25 million people, Mexico City is facing critical deficiencies in infrastructure, transportation, and affordability. For the fourth Mexico City Studio, the Department of Architecture challenged students to address the issues of affordable housing and access to public resources, while sustaining the region's identity, community, and history.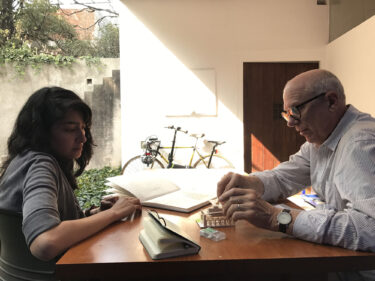 To explore these issues, co-instructors Professor Dave Miller and Cory Mattheis, M. Arch '11, tasked the students with designing a new zoning proposal for the San Miguel Chapultepec neighborhood. While each student addressed an individual site, collectively their proposals needed to add up to a larger statement about the neighborhood and city. Together the students came up with guiding principles to ensure their individual plans worked with the greater scheme and came together throughout the quarter to assess each other's proposals.
Miller and Mattheis encouraged proposals that would increase density while respecting the existing context. To achieve this, the students visited more than a dozen surrounding neighborhoods, towns and cities, which allowed them to understand the greater regional context of pre-Columbian, colonial, modern, and contemporary architecture and met with local architectural and planning leaders.
Project outcomes and inspirations from the Mexico City Studio: Affordable Housing in a Mega City are on display in Gould Pavilion from April 11 – May 19.
Visit the Gould Pavilion website to learn more about the exhibit and hours.
Student Perspective
Anna Urban, M. Arch. Candidate
Hometown: Monkton, Vermont
How studying in Mexico City was a good experience for studying Seattle:

I've been following the issues of affordability, zoning and density in Seattle, so it was interesting to learn about the unique – and sometimes similar – challenges that exist in Mexico City. While the city is no longer increasing in population as quickly as in past decades, development is expanding at the edges where land is cheaper. This has resulted in commute times becoming longer, pollution, less walkable neighborhoods, rising costs of housing, and limited access to public transportation, water and services. At the same time, neighborhoods like the one we studied that would be ideal for increased density are resistant to change. Because of these sentiments, we learned a lot about the importance of involving community in conversations and finding solutions through democratic participation.
The most interesting part of the studio and experience:
Being in Mexico City was an amazing opportunity. It felt particularly important to try to understand issues in Mexico and get to know local people at a time with increasing tension between our two countries. The most interesting thing about the experience was simply living in Mexico City for 10 weeks. With such a vibrant public life, there is a lot to learn and enjoy just from going about your daily routine. The informal life on the sidewalk, and the institution of the neighborhood market were particularly fascinating to get to know.
Learning from local leaders:
In talking with local architects, we learned about a common issue facing architects and developers – the need for affordable housing to make sense economically. We took their feedback and came up with our own guidelines for affordable units. Our class researched and proposed square meter sizes appropriate for studio, single, double and triple bedroom units, basing them on proposals we had seen from local architects such as Felix Sanchez.

Local architects' candid feedback at reviews and discussions helped us understand that we were not designing in a familiar context, and allowed us to respond more appropriately. These contacts also allowed us access to projects we would otherwise not have been able to see. We visited several architecture offices, which gave us a view into the reality of building in Mexico City. While we lost our soccer game against Javier Sanchez Architects, we loved getting to know them and sharing thoughts on architecture and politics.

Aside from architects, we heard from local urban planner, Laura Janka who highlighted the city planning department's efforts for a more habitable, equitable, sustainable city while also increasing economic opportunities. Her perspective furthered our emphasis on involving the general public in conversations and solutions to issues related to urbanism.
The assignment:
Each student was tasked with creating a proposal to increase housing density and space for a public program that contributed to the neighborhood. By coming up with an "urban vision" and a new zoning proposal, we understood the issues more deeply and were therefore able to better address them in our projects and in the way our projects related to each other's. Several students saw an opportunity to create and activate a pedestrian alleyway. My project was part of this proposal, cutting through a city block and proposing new housing along an east-west corridor, with extensive public and private gardens on the south side and the roof.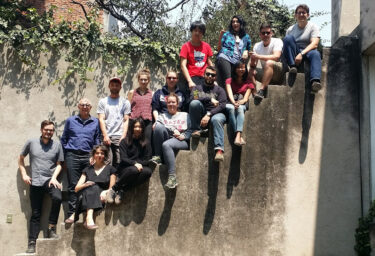 Project outcomes and inspirations from the Mexico City Studio: Affordable Housing in a Mega City are on display in Gould Pavilion from April 11 – May 19.

Visit the Gould Pavilion website to learn more about the exhibit and hours.