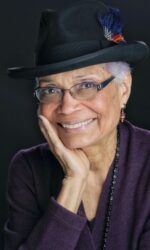 Celebrating design excellence at the AIA New York Chapter's Honors and Awards Luncheon on April 21. This year's honorees include former UW Department of Architecture faculty member, Sharron Egretta Sutton, FAIA. Dr. Sutton is an activist educator and scholar who promotes inclusivity in the cultural makeup of the city-making professions and in the populations they serve, and also advocates the use of participatory planning and design strategies in low-income and minority communities. She has been a faculty member at the University of Washington, Pratt Institute, Columbia University, the University of Cincinnati, and the University of Michigan where she became the first African American woman in the United States to be promoted to full professor of architecture.
Dr. Sutton holds five academic degrees in music, architecture, philosophy, and psychology, and has studied in independent graphic art studios internationally. She is a registered architect, certified by the National Council of Architectural Registration Boards, and was once a member of the musician's union in New York City. Her fine art is in the Library of Congress and has been exhibited in and collected by galleries and museums, business enterprises, and colleges and universities. She previously practiced architecture in New York City and, as a freelance orchestral musician, performed in Radio City Music Hall, for the Bolshoi and other ballet companies, and in such Broadway hits as Man of La Mancha, Fiddler on the Roof, and A Funny Thing Happened on the Way to the Forum.
Dr. Sutton recently published the book When Ivory Towers Were Black: A Story about Race in America's Cities and Universities.