Americans tend to think of brown shipping boxes when it comes to Amazon. But in Seattle, the company is increasingly known as a real-estate owner. That's especially true downtown, where Amazon employs more than 24,000 — some of whom will soon hold meetings and take lunch breaks inside three gigantic glass spheres that add a geodesic flare to the urban grid.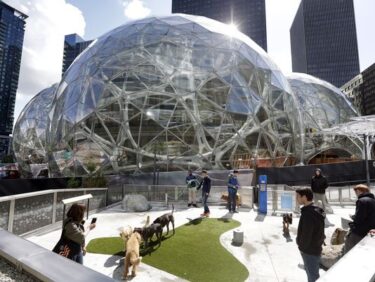 The tallest of the glass and metal Spheres rises 90 feet and is more than 130 feet in diameter, with two smaller spheres to each side. In a city that gets 152 days of rain a year, they will provide a warm, dry, plant-filled space for meetings, meals and mingling for up to 800 Amazon employees at a time.
"It's kind of fantastic," said Thaisa Way, an urban landscape historian at the University of Washington in Seattle.
While time will tell, she thinks it could end up being an iconic building in the region, with those standing outside feeling like they're looking out, not in.