Growing up in South Central Los Angeles, David de la Cruz spent his high school years attending Communities for a Better Environment youth meetings, while also watching his mother grow to become a pillar of the community, shaping his ideas for the potential of his own impact.
"Communities for a Better Environment's commitment to social justice provided me with a strong foundation to begin building my career path around placing the voices of communities at the forefront, advocating for healthier and safer communities," de la Cruz said.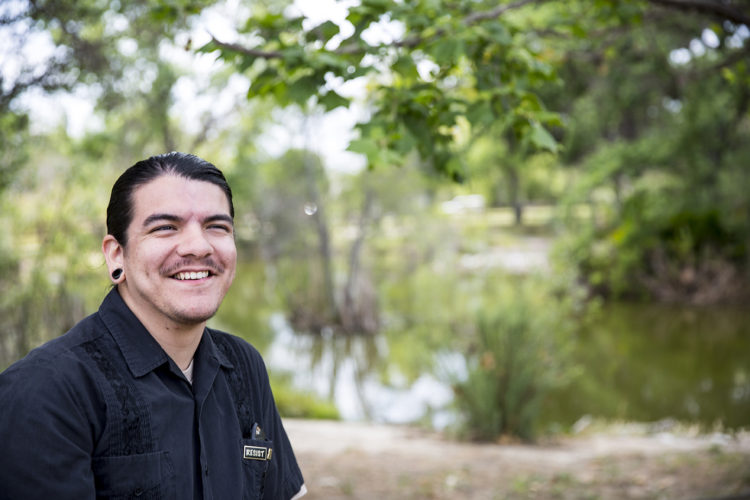 Now weeks away from completing a Master of Landscape Architecture, David is looking back on three years of learning from innovative thinkers and doers, traveling the world, and participating in transformational community development. And for his work and designs, David has been selected as the 2017 National Olmsted Graduate Student Scholar.
David says being honored as the 2017 Olmsted Scholar demonstrates the Landscape Architecture Foundation's commitment to sustainable leadership and advancing the goals of environmental and climate justice advocates.
David's local collaborative project "Lot Liberation" is an expansion of work that has already been done by several organizations throughout the Los Angeles area to transform vacant lots into useable and vibrant public spaces. Many of these projects, which have been led by Free Lots Angeles, the Trust for Public Land, and LA Open Acres Mapping Project – led by Community Health Councils, work to convert unused lots into functioning spaces that reflect the area's culture, history, art, and community.
"Through Lot Liberation I see the willingness of local artists to exhibit their work and focus on important issues such as affordable housing and displacement. Through the use of vacant lots we can bring visibility to local struggles for justice," de la Cruz said.
The honor of the Olmsted fellowship, means David receives a $25,000 prize to help further his local collaborative projects like Lot Liberation.
"Local artists have a unique stance in making knowledge accessible to their community. I hope to use my knowledge in remediation to contribute to this community of artists and use plants as my medium," he said.
While plants are David's medium education is an equal passion. For the past three years, David has explored the link between high school education and the ways landscape architecture can be made more accessible.
"I think landscape architecture is unique in the respect that there is a distinct impact that can be made on a local level; the ways professionals examine the relationships they are building with not only the client, but the places their designs will impact across different scales, plays a very important part in approaching concerns about culture, equity, and society," de la Cruz said.
In the coming years David plans to teach in an urban high school and pursue a Ph.D. He's seen the power of change through opportunity, engagement and participation and wants to work with youth to help shape curriculum about the environments they come from. David explains that the process can be a powerful experience for students when they're brought into conceptualizing and executing the design process, learning the impact of local intervention to regional issues such as housing affordability. He believes opportunities for higher-level thinking can help students make decisions about their future, their education, careers, and influence on local communities.
"An important part of my focus with youth and education, is to find ways to sustain projects for generations. Moving into education, and specifically using this National Olmsted Fellowship to work with youth demonstrates my commitment to make landscape architecture legible to more youth in urban communities as a response to the legacies of environmental racism and injustices," de la Cruz said.