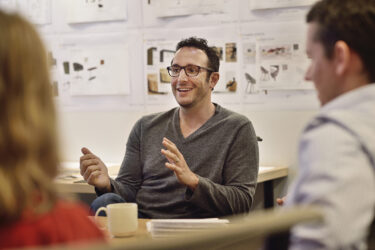 When Dave Goldberg – president and architect at Mithun – thinks back on his time at UW and what continues to resonate with him, two things come to mind. The first is the mix of great full time professors like Sergio Palleroni and Jeffrey Ochsner, and the inspiring local practitioners including Gordon Walker, Mark Millett, and Dave Miller, many of whom have remained Goldberg's mentors. The second is the focus on hands-on learning and community engagement.
"I spent a winter quarter in Mexico, where we built a road, water collection cistern, and planned a future school building. It was an incredibly influential experience that shaped both my technical skills and values," Goldberg said.
Both Mexico City and Seattle are a long way from the New York City area, where Goldberg spent lots of time exploring and making his way through Manhattan's urban grid. Completing his undergraduate studies at the University of Virginia, he immersed himself in project based learning. Soon after graduating, Goldberg drove across the country to Fairbanks, Alaska where he worked construction and spent time bending rebar at a precast concrete plant. Leaving Alaska for his first design job back in New York, Goldberg worked for a year without pay during a big recession to help build his experience before beginning graduate school at UW.
While completing his M.Arch., Goldberg found a home with Mithun as a model maker. In 2003, he was the youngest person to join the board of directors and soon after was promoted to be president. Goldberg can give a dozen reasons why he's stayed at Mithun for the majority of his career, but highest on his list is the company ethos.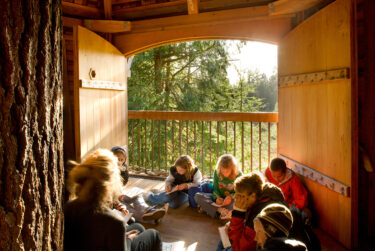 "Our firm's mission is "Design for Positive Change." We strive to make each of our projects beautiful, but the real indicators of our success is how the projects positively impact individual users, communities, and our planet," he said.
Because the firm doesn't have a signature style, the team is able to mold every project to be a direct expression of the people it is serving, as well as the physical environment and community where it is built.
"Our goal as a firm is to – create experiences, not objects – in every design we touch," Goldberg said. "My goal is to help continue the trajectory of quality of our work in every aspect of our practice. I am constantly amazed at the caliber of our projects, clients, and staff."
As Goldberg meets with current students and recent graduates he encourages them to find a firm that resonates with their values, continues to nurture their curious spirt, and gives them opportunities to constantly learn.
He also sites his most challenging and rewarding project as a personal one. In 1999, he and his wife bought a 500 square foot house and spent the next five years demolishing, constructing, and designing their home where they still live with their two kids.
"We did almost all of the construction ourselves, including foundations, plumbing, and electrical work. I learned a ton about permitting, construction and most importantly patience," he said.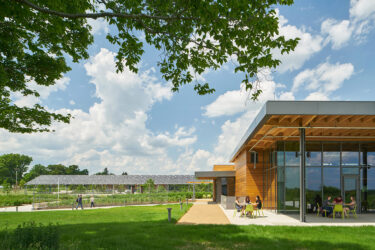 Outside of leading Mithun, Goldberg is involved in a number of community organizations including the Woodland Park Zoo, and IslandWood where he was the lead designer for the camp's 255 acre campus.
"Im a big advocate of the power of informal science learning. Engaging children during their formative years with these kinds of integrated experiences can have a big impact on them as they develop," Goldberg said.
Goldberg feels that if organizations like IslandWood and the Woodland Park Zoo can touch kids in their brains and their hearts, developing a love for the natural world, they will be more likely to care for it as they begin to make decisions as engaged members of our community.
Dave Goldberg will be the College of Built Environments' 2017 graduation speaker. Graduation will take place on Friday, June 9 at the Seattle Center Exhibition Hall.