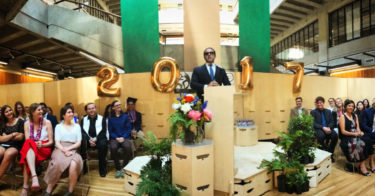 "Don't 'check your privilege at the door'," Lieutenant Governor Cyrus Habib said, "It's handy. Put it to use."
The Lt. Governor delivered the keynote address at the University of Washington's commencement ceremony for the Community, Environment, and Planning program last Saturday.
Housed in the College of Built Environments, the Community, Environment, and Planning program takes an interdisciplinary approach to community issues and planning, and students finish the program with a capstone project of their design. Projects ranged from redesigning Seattle intersections to be more bike-friendly, to using photography in elementary schools to encourage K-12 interest in the environment — a wide variety of approaches to the common goal of conscientious community planning.
The Lt. Governor spoke to the class' common civic ethos by offering advice for both personal success, and for making an impact on the world.
On personal professional development, the Lt. Governor urged students to stay in contact with their instructors in the years to come. The Community, Environment, and Planning program, with a close-knit cohort of 38 students this year, represents a great opportunity for mentorship, and the Lt. Governor advised students to continue to seek out their advice past graduation.