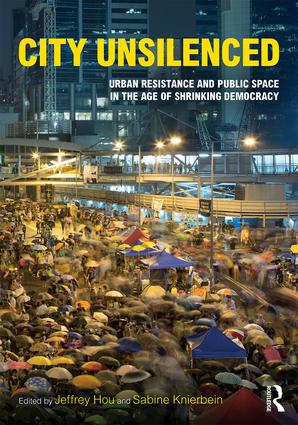 Jeff Hou is a professor of landscape architecture and adjunct professor of urban design and planning in the University of Washington's College of Built Environments. His research, teaching and practice focus on community design, design activism, cross-cultural learning and engaging marginalized communities in planning and design.
Hou has written extensively on the agency of citizens and communities in shaping the built environments. He is the author of several books, including Insurgent Public Space: Guerrilla Urbanism and the Remaking of Contemporary Cities (2010).
His newest book is "City Unsilenced: Urban Resistance and Public Space in the Age of Shrinking Democracy," co-edited by Sabine Knierbein, associate professor for urban culture and public space at the Vienna University of Technology, and published by Routledge. Hou answered a few questions about his book for UW News.

"Our main conclusion is this: These recent protests suggest the important role of public space in supporting active democracy at a time when our democratic institutions are being threatened and undermined by neoliberal practices and resurgence of totalitarianism."
— Jeff Hou / professor of landscape architecture