Vikram Prakash says his weekly "ArchitectureTalk" podcast got its start, as many things do, from a student's idea.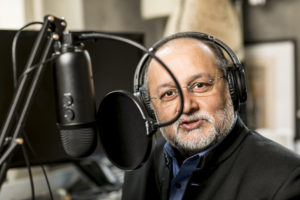 Prakash is a professor of architecture and an architect himself. He is also an author, a theorist and an architectural historian.
He said he has always felt "energized" by discussions in seminars and at conferences of "impromptu topics at the edges of the known, discussed and well traversed." But such conversations, he said, "usually dissolved in time, unable to survive the scrutiny and surveillance of the published work."
Prakash said he was lamenting just that — and the lack of "new media conversations on contemporary architectural thinking" — in a seminar when a student suggested simply, "Why don't you start your own podcast?"
Sixteen episodes after its September 2017 debut, Prakash's "ArchitectureTalk" podcast has been downloaded about 6,300 times from listeners in more than a dozen countries. The recordings are available on all major podcast platforms, including iTunes, Spotify, YouTube, Soundcloud and more.
Discussion themes range from general topics like historic preservation, modernism and urbanism to how fashion and art curation dovetail with architecture, the work of Frank Lloyd Wright, architecture in the Islamic world, and Seattle's architectural culture.
The podcast, Prakash said, is intended not just for practicing professionals in the field but "architects, architectural thinkers, anyone interested in architecture, particularly from other disciplines. People in general."