On Saturday, October 5, members of the CBE community gathered at CERC (UW Center for Education and Research in Construction) for a full-day retreat to kick off the 2019-20 strategic planning process.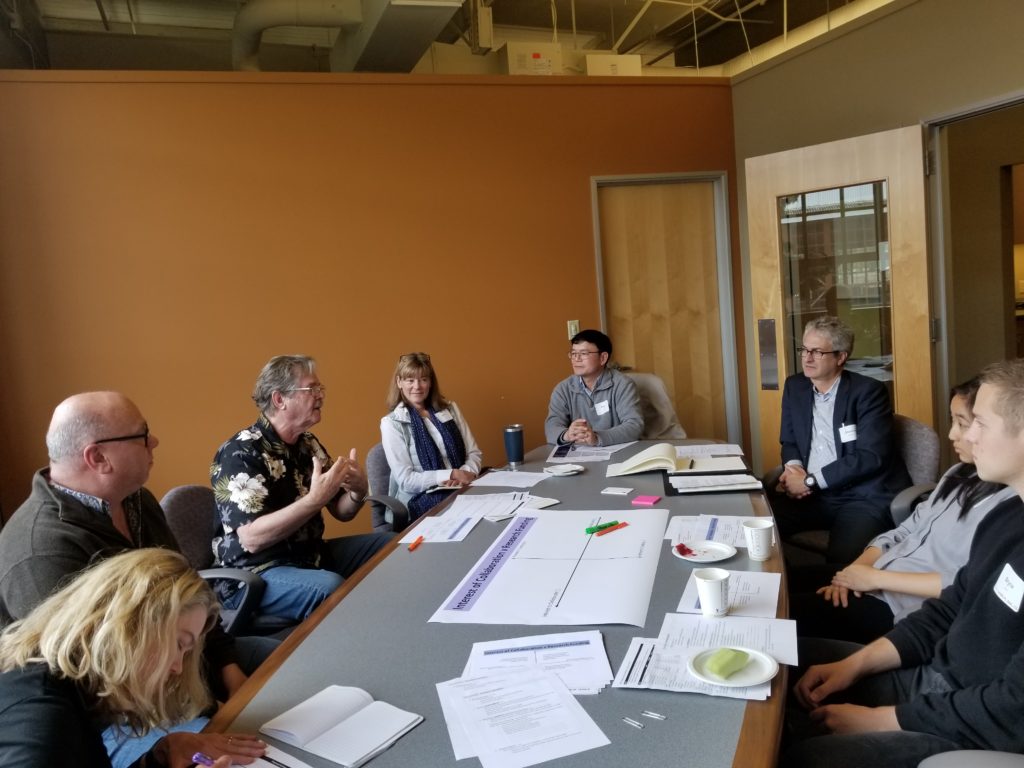 Participation: In total, 95 people attended and participated in at least part of the retreat. This included 47 faculty and instructors (19 ARCH, 4 CM, 7 LARCH, 6 RE, 9 UDP), 23 staff (10 Dean's Office, 4 ARCH, 1 CM, 3 LARCH, 2 RE, 2 UDP, 1 other), 20 student leaders (3 undergraduate, 11 master's, 6 PhD). 
Day's Highlights: The day kicked off with a welcome from Dean Renee Cheng that highlighted the importance of strategic planning to building and identifying a CBE culture that brings focus but not group think and impact but not fragmented silos.

Consultants Ted Sive and Rico Quirindongo introduced the agenda for the day and some key concepts to consider in strategic planning including an activity focused on communicating the value and vision of the college to various external audiences (a prospective student, a donor, a community member, and an industry leader). Facilitation Team co-chairs Nick Dreher and Ken-Yu Lin reviewed the process to getting to the retreat (see Strategic Plan Process Guide).

Jan Whittington described scenario planning, the concept behind the morning workgroups. In scenario planning, work groups were asked to consider possible futures for CBE based on changes to two different external factors. For example, one group examined the implications and actions for CBE of a world where support for the humanities would rise or decline alongside a world with increased or decreased political upheaval.
Attendees self-selected work groups based on their interest in topics. Groups were capped to allow for representation from faculty, staff, students and community members in each group. Participants joined one of 10 work groups (see list below). Work groups were facilitated by either a member of the Facilitation Team or one of the external facilitators. 
Scenario Planning Workshops
Interest in collaboration + Research funding
Humanities + Political upheaval
Cultural competency + Diversity
Interest in BE degrees + Student funding
Collaboration + Technology
Rate of technology change + funding
Economic crisis + Options for funding
Effective governance + Climate change awareness
Public funding + philanthropic funding
Design thinking + metric-driven evaluation
Each group discussed the possible implications of these different futures for society and for CBE. They then brainstormed actions CBE can take to respond to or avoid possible implications. Each group identified 3 top actions and presented to the full retreat (see Scenarios List of Actions).  
After a delightful lunch catered by Marination, the group reconvened to report out, and Ken-Yu Lin provided an overview of the next phase of the strategic planning process—task group formation. In particular, Ken-Yu emphasized the four process values identified to shape the process: Inclusive, Collaborative, Transparent, and Equitable.
Participants were then sorted into 10 new workgroups. The goal of this reorganization was to provide perspective from as many of the morning groups as possible in each afternoon discussion. The afternoon groups were tasked with discussing and analyzing the themes and actions that came out of the morning sessions and identifying focus areas for Task Groups in the next phase of the strategic planning process. Each group produced 3–4 recommendations for Task Group focuses. 
These recommendations were recorded on large plots and retreat participants were provided 3 dots to vote on their preferred task groups. In total, 71 people voted for a total of 213 votes/dots. (see Task Group voting lists). 
Following the voting process, Ted Sive and Rico Quirindongo facilitated a conversation around themes and topics that might have been missed or discussed in a small amount throughout the day. Finally, Dean Cheng closed the retreat with a thank you for participation and a call to participate in Task Groups as the next step. 
Next Steps: Voting on Task Group recommendations and conversations throughout the day were discussed by the Facilitation Team in their 10/8 meeting when they identified a list of 12 task groups for the next phase of the strategic plan. These 12 Task Groups were presented in the 10/9 All College Meeting. 
Recognition: An incredible amount of staff time and energy went into making the retreat a success. In particular the time and work in planning and execution of Susanne Adamson, Debbie Underwood, Mark Baratta and Ross McKenzie deserve mention. 
If you'd like to hear more about the retreat or the strategic planning process, please contact the Facilitation Team at FTplanning@uw.edu. 
Related Resources:
Retreat Agenda – PDF link
Retreat Presentation Slides – PDF link
Task Group Final Voting – PDF link