Creating the 2021 Strategic Framework
We are excited to bring you our full plan along with transparency on our entire planning process (2019-2021) for the CBE Strategic Framework, adopted 2/10/2021.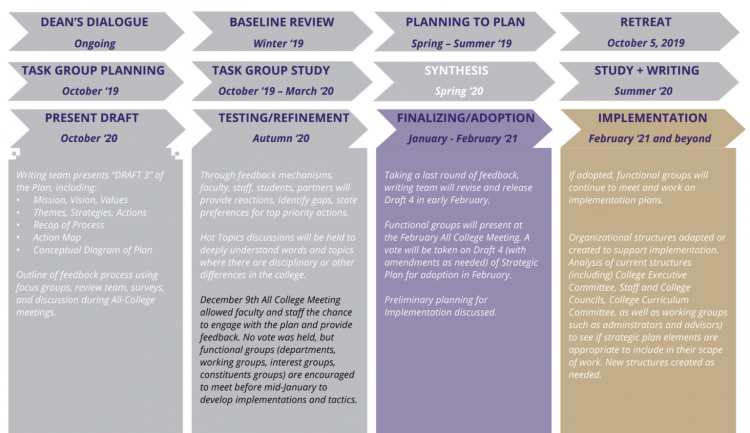 Testing and Refinement; Autumn 2020
Through feedback mechanisms, faculty, staff, students, partners will provide reactions, identify gaps, state preferences for top priority actions.
Hot Topics discussions will be held to deeply understand words and topics where there are disciplinary or other differences in the college.
December 9th All College Meeting allowed faculty and staff the chance to engage with the plan and provide feedback. No vote was held, but functional groups (departments, working groups, interest groups, constituents groups) are encouraged to meet before mid-January to develop implementations and tactics.
Taking a last round of feedback, the writing team will revise and release Draft 4 in early February.
Functional groups will present at the February All College Meeting. A vote will be taken on Draft 4 (with amendments as needed) of the Strategic Plan.
This process hopes to engage faculty, staff, and students. It is being guided by a facilitation team of faculty and staff from across the college. 
Strategic planning facilitation team:
Susanne Adamson, Administrative Coordinator, CBE Strategic Plan
Mark Baratta, Director of Operations
Ann Marie Borys, Associate Professor, Architecture
Suzanne Cartwright, Director of Community Engagement, Real Estate
Carrie Sturts Dossick, Professor, Construction Management, and Associate Dean of Research
Nick Dreher (co-lead), BLA Academic Adviser, Landscape Architecture
Ken-Yu Lin (co-lead), Associate Professor, Construction Management
Vikram Prakash, Professor, Architecture, and Chair, CBE College Council
Jan Whittington, Associate Professor, Urban Design & Planning
We want to emphasize the collaborative nature of this work. Please reach out to us at FTplanning@uw.edu if you have any questions, feedback, or concerns about the process.
Resources