We are saddened to share that Associate Professor Emeritus, Iain Robertson, passed away on July 27, 2021, at the age of 73. Iain Robertson inspired generations of University of Washington landscape architects and students with his love, commitment and education to and of the natural world. Throughout his more than 40 year career in practice and at the University of Washington, Iain was a mentor and friend to so many of us in our community. 
Iain received his Bachelor of Architecture from the University of Edinburgh in 1972 and went on to get his Master of Landscape Architecture in 1975 from the University of Pennsylvania.
After working at Jones and Jones, he joined the Department of Landscape Architecture at the University of Washington in 1982 and served as Department Chair from 1996 to 2004. Iain was also an Adjunct Faculty member in the School of Environmental and Forest Sciences at UW's College of the Environment.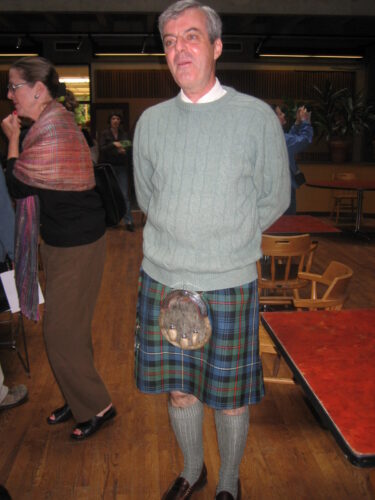 For several years, Iain sat on the Seattle Design Commission and the Seattle Parks Foundation Board.

Throughout his career as a landscape architect, Iain worked on a wide range of projects. From ocean to garden to cityscape, Iain explored how design and creative thinking may be taught and "cultivated" in other disciplines and fields. He was an early proponent of native plants to the region, and thought of gardening as a verb, stating to the Seattle Times in 2014; "It's about creating living systems. Gardens aren't objects, a thing that you manage . . . The goal is to interact, to reduce our level of control, yet still enjoy our gardens."
As Seattle's Freeway Park's plants became crowded and overgrown, and the park had fallen into disuse, Iain was brought in to help the city restore and replant the park along with developing a long-term vegetation management plan to make it once again the destination that original designer Lawrence Halprin envisioned. Iain even traveled to California to discuss and vet Halprin's ideas for the park. Iain was involved in deciding what plants, especially what trees, were appropriate given the issues of a warming climate and the fact that, as he described it, the plants in Freeway Park were essentially growing in the equivalent of large window boxes.
In 2017, Iain was part of the team that created a new garden in the Washington Park Arboretum to commemorate the Seattle Garden Club's 100th Anniversary. This is what Jason Morse of AHBL Architects had to say at the time:
"Iain Robertson's name was mentioned at the first meeting where this project was discussed. In addition to being a well-respected member of the Landscape Architecture faculty at the University of Washington, Iain is largely responsible for the design of the Arboretum's Witt Winter Garden, which was immediately put forward as the gold standard for a small, display-oriented garden like the one we were beginning to design. I had met Iain once or twice before, and know many people in my field who consider him a mentor, but I had never had the pleasure of working with him or getting to know him well. Iain generously donated his time to collaborate on this project and provide invaluable input. Like all the best practitioners of our craft, Iain offered insights on the integration of plant selection, grading, views, materiality and spatial definition with the overall design concept. I found myself wishing that I had been able to experience having him as a teacher, as so many of my colleagues and friends have."
An exemplary mentor with an active role in the Puget Sound community, Iain collaborated with lecturer Brooke Sullivan on a unique studio course that engaged students in the designing of a new artificial reef at Redondo Beach, one of the most popular dive sites in the Puget Sound area. The studio scope included the removal of toxic material in the reef, including sunken boats, vehicles, and other manmade structures that became toxic habitats for marine life, in an effort to renew the health of the ecosystem. 
"What makes a good artificial reef boils down to structure and complexity," said Robertson. "A variety of different-sized spaces for marine life to live in, and suitable surfaces for marine life to attach to. Stability and longevity are also desirable." "And as landscape architects," Robertson added, "we also consider the developing marine ecosystem itself as a 'client.'"
The Department of Landscape Architecture has a long history of developing plans and designs for community groups throughout the region, with Iain leading much of this community engagement work. Iain's studio courses provided educational environments for combining disciplinary research and real world project scoping and development. 
Iain was awarded the Council of Educators in Landscape Architecture Fellows Award in 2019 with significant support from his students and colleagues. This award recognized his impactful career as an outstanding landscape architecture educator.
I've been fortunate to be both "student of" and "colleague with" Iain. In both roles, Iain was a consummate source of inspiration and a valued mentor. His commitment to the students was unwavering, and though his approaches at times may have seemed eccentric, in retrospect the lessons taught were always essential for revealing the most and best from those learning from him. – Ken Yocom, Department Chair and Associate Professor of Landscape Architecture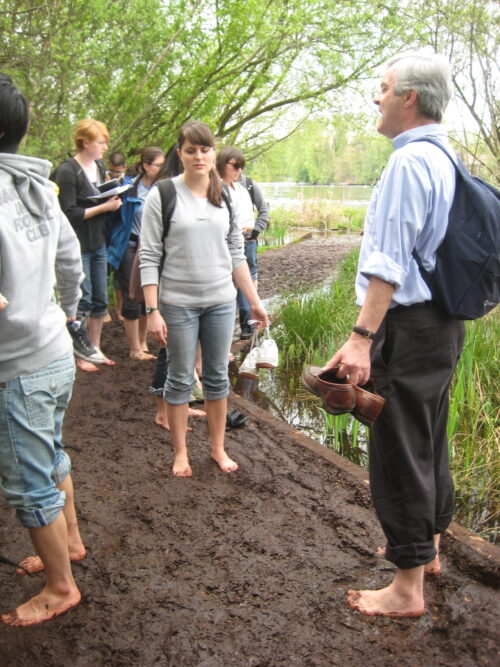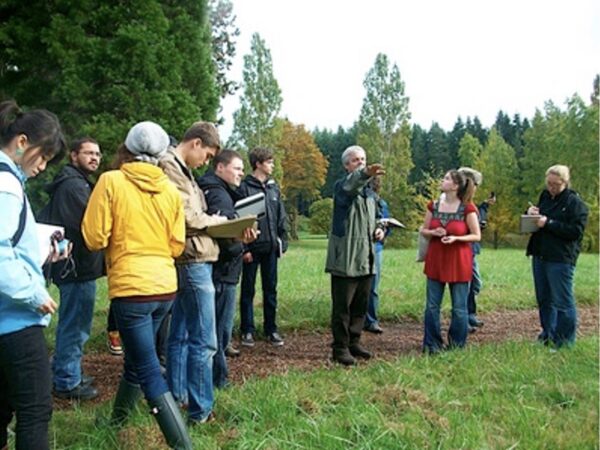 Iain was respected, loved, and fondly remembered by many of his colleagues who were inspired, supported, and always privileged to receive a different point of view, mixed with a unique balance of humor and punnery.
Iain's commitment to creativity shined through until the end. His book, Cultivating Creativity, will be published in January of next year and is a testament to his dedication to his students and the classroom. 
Excerpt from the Foreword of Cultivating Creativity by Daniel Winterbottom, Professor of Landscape Architecture
The writing found in the following pages is undoubtedly Iain's, in his loves for and expression of great poets and authors from the Beatles to Robert Louis Stevenson. This is expressed through Iain's unique Scottish humor and his deep affection for literary craftmanship and for words, puns, and double entendres, all of which are woven throughout the practical, reflective, and inspiring content of this book.  As he has done for so many, Iain changed my life trajectory. Upon arriving in Seattle in 1989, I began to hear many stories about Iain Robertson. I was first employed in the landscape architecture firm The Portico Group, founded by alumni of the firm Jones and Jones, where Iain practiced before teaching at the University of Washington. He was often referenced in conversations, and it was clear he was highly admired and memorable. Later while jogging through the university campus, I would run into him on campus. He often stopped and chatted with me. At one point he suggested I think about teaching a construction course as a lecturer. This became a reality. Then, a year later, a tenure track position opened; again Iain encouraged me to apply, and to my disbelief I was chosen for the position. Without his encouragement I may not have considered academia, but he made it exciting, laudable, and important. After twenty-five years of working alongside Iain, I now realize that caring is the characteristic that best defines him. In meetings, his quiet, pensive manner, may lead you to think he is lost in his own thoughts. He is not, or, rather, often he is not. After long periods of silent listening, he enters the discourse with a pithy comment. It becomes clear that Iain had been contemplating the conversation deeply. He was dissecting it from multiple viewpoints, and inevitably brought his own unique, and spot-on perspective into the conversation. While Iain appears quiet—he is by his own admission rather shy—below his quiet reserve lie a bubbling passion, drive, curiosity, and humor. He is no shrinking violet. His powerful voice takes on the uncomfortable challenges that many avoid, never mincing his words, nor bending to a safer, less consequential position. I deeply admire Iain's deep sense of morality, his fearlessness to stand up for unpopular positions, explain his point of view, and convince others with eloquence, conviction, and evidence.