COVID AND OTHER COMPLEX CHALLENGES: OPPORTUNITIES TO DO THINGS DIFFERENTLY
In cities across the Pacific Northwest and around the globe, the COVID-19 pandemic has shed new, harsh light on the preexisting societal conditions. Persistent problems such as systemic racism, homelessness, and extreme weather events driven by climate change have intersected with the pandemic in our urban spaces, resulting in deeply unequal impacts for underinvested communities and neighborhoods. Such challenges are not new, but their deepening effects beg for more innovative approaches to collectively caring for our communities and our environments. At the University of Washington, initiatives like Urban@UW are up for the task.
Urban@UW brings together academics, policymakers, and practitioners in all areas of urban life to tackle the complex problems facing urban environments. Created in 2015 by faculty from across the University of Washington and housed in the College of Built Environments, Urban@UW is led by newly selected Faculty Director Rachel Berney, associate professor of urban design and planning at the College of Built Environments, and Director Jen Davison. Now beginning its 6th year, Urban@UW continues to bridge disciplines, sectors, and perspectives as Berney and Davison plan the future of the initiative's work.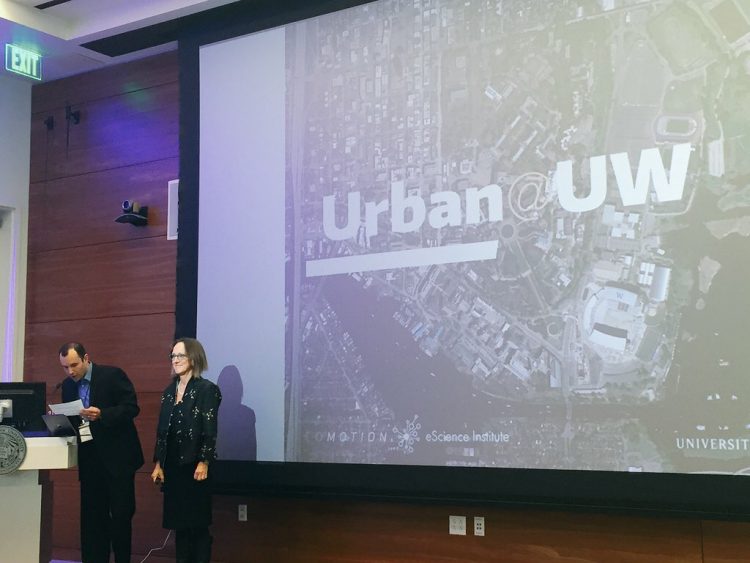 NEW LEADERSHIP BUILDS ON YEARS OF COLLECTIVE IMPACT
Berney has deep expertise in urban issues and a focus on transdisciplinary scholarship, both of which are key for leading Urban@UW into its next phase. A cornerstone of the efforts taking place at Urban@UW is research that seeks to foster sustainability and equity across urban communities and spaces. Berney's focus on equitable development at the community level is not only aligned with Urban@UW's mission, but is critically needed as researchers, policymakers, and community stakeholders all work to holistically design and steward vibrant and welcoming cities.
"What I'm most excited about in this new role is that through my work, I know that convening, capacity building, and supporting communities are the key, and Urban@UW is a perfect place to make this happen at a larger scale," Berney shares.
Urban@UW focuses on urban places as communities, as systems, and as an incredible lever for change toward inclusive health and wellbeing: concentrating resources, ideas and people in ways that have immense potential. Importantly, the Urban@UW model recognizes that research must be community-centered in order to realize robust impact. Those closest to the challenge are part of Urban@UW's research teams, topics, and approaches as they work to solve complex problems that cities house. And it's this transdisciplinary approach, one that crosses boundaries of disciplines, sectors, and other types of knowledge, that makes Urban@UW special. This approach is defined by efforts that span and integrate perspectives, moving beyond specific, siloed approaches to address a common problem. 
As Reneé Cheng, dean of the College of Built Environments said, 
"when I think of Urban@UW, I think of the sometimes invisible ways that boundaries get crossed gracefully. The hard work of cross boundary teaching and research is made much easier when Urban@UW provides the platform and facilitates exchanges that highlight the productive conflict from which innovative and creative solutions arise."
HOMELESSNESS RESEARCH INITIATIVE: FOSTERING EMERGENT SOLUTIONS TO COMPLEX PROBLEMS
In November 2016, Urban@UW convened over 70 faculty, staff, students, and community partners who do research and practice on the topics of homelessness and affordable housing. In a day-long, facilitated retreat, people connected to colleagues across the UW community, many for the first time, to discuss ideas and pitch projects to advance progress in these important challenges. This was the beginning of Urban@UW's Homelessness Research Initiative.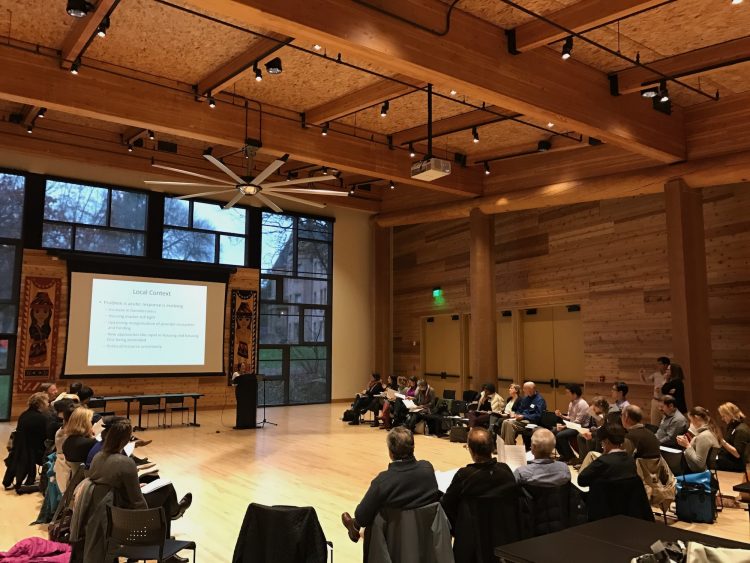 From that 2016 convening, three major projects were initially launched: The Doorway Project, the UW Study on Student Housing and Food Insecurity, and the Critical Narratives project. And, many more have followed, under the Homelessness Research Initiative, co-directed by Gregg Colburn, assistant professor in the Runstad Department of Real Estate, and Rachel Fyall, associate professor in the Evans School of Public Policy and Governance.
"Having a group of scholars dedicated to working on addressing homelessness from multiple perspectives, disciplines, and research backgrounds means that we can come up with creative and multi-pronged solutions to a challenging issue facing our communities", said Seema L. Clifasefi, Ph.D., MSW, associate professor in UW's department of psychiatry and behavioral sciences. "The Homelessness Research Initiative housed by Urban @UW provides collective space for UW faculty to come together, share our respective knowledge, and find ways to translate that knowledge into action. Without the support of Urban@UW and the space to come together in this way, the Doorway Project, a now state-funded initiative between the UW and YouthCare to address youth and young adult homelessness through a thriving academic/community partnership, may never have been dreamt and then actualized."
Fyall believes that Urban@UW's power is in catalyzing faculty connection and collaboration not just across UW, but also beyond.
"The research projects and activities that have sprung from Homelessness Research Initiative show how combining diverse intellectual perspectives can result in relevant, engaged scholarship and practice. For those who are outside of UW, the Homelessness Research Initiative provides a gateway to a network of scholars actively involved in homelessness research".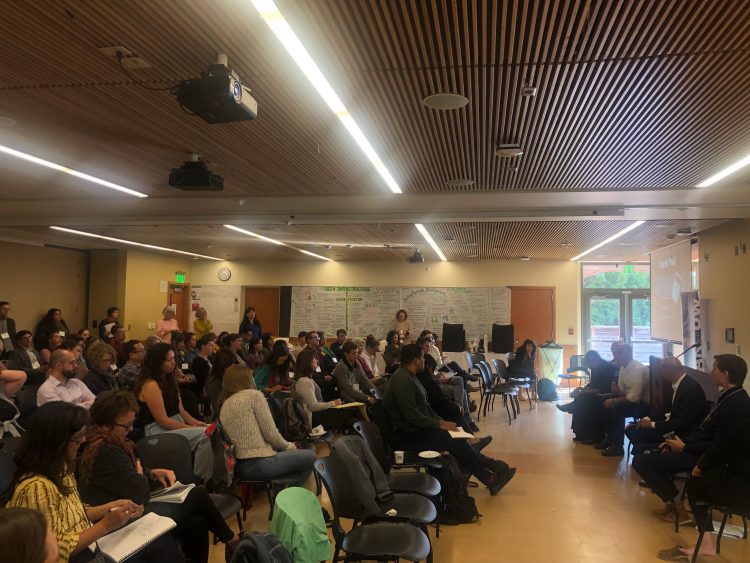 One of many of the efforts that have sprung up through Urban@UW, the Homelessness Research Initiative is a perfect illustration of Urban@UW's tenet that when you bring people together and provide the space, time, and facilitation (and maybe some coffee and cookies), you can make it possible for people to co-create pathways to solving complex challenges.
Rubén Cásas, assistant professor in UW Tacoma's School of Interdisciplinary Arts and Sciences and one of Urban@UW's Steering Committee members, shares,
"two projects that exemplify Urban@UW's potential are the Sound Communities project and the Sensol Systems project. Not only do these projects engage various stakeholders, they also look to provide solutions to everyday issues and problems in the urban context. These projects exemplify the type of research and impact Urban@UW is having and can continue to have in the coming years."
CITIES AS LABS AND LEVERS
Urban@UW's years of work is grounded in the understanding that more voices lead to a more inclusive future: in all cities, and for all of us.
The health of our population is dependent on many elements that influence quality existence. A significant element is the built environment, and relational to its natural environment context, the built environment may be thought of as the container within which life happens – it is a most influential contributor to population well being and health, supporting a humane future. – FAIA, Consulting Principal with Suehiro Architecture, and member of Urban@UW's nascent External Advisory Committee
Suehiro continued that, "Urban@UW is a principal contributor to the process of formulating innovative ideas to be applied in shaping future built environments that support and enhance civil society. The future context of the built environment is driven by climate change – 'futures awareness' drives the ability to be 'future ready'." 
Bringing people together is paramount. The most complex issues, those that we have yet to solve, affect billions of lives and cannot be addressed by one perspective alone, nor can the solutions be predicted–they must emerge from the contribution of many perspectives.
As Cásas states, "as cities continue to emerge as the epicenter of the major issues of our times, the convening Urban@UW does towards the production of research that leads to solutions and which models how urban-based researched that has the promotion of justice at its core stands to have local, regional, and global impact."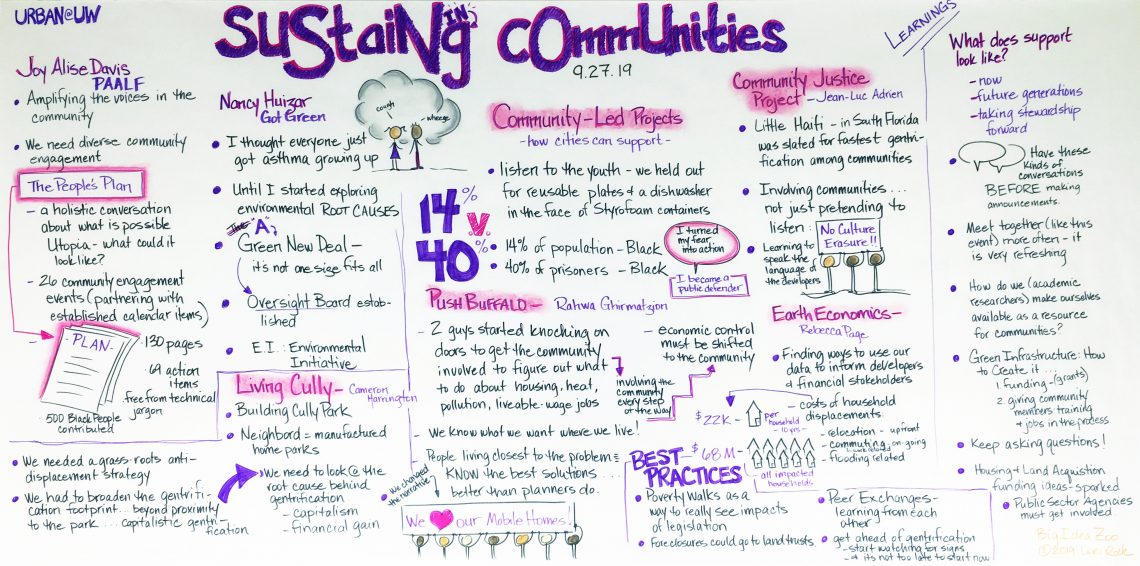 SETTING UP FOR URBAN@UW'S NEXT PHASE OF IMPACT
In addition to new Faculty Director leadership, Urban@UW has over the past two years developed a deeper partnership with the College of Built Environments, which now provides administrative, financial, and strategic collaboration to the UW-wide initiative. In seeking to increase cross-disciplinary, community-engaged, and high-impact scholarship, Urban@UW provides an excellent opportunity to realize many of the College's goals.
Dean Cheng shared,
"the urgency of the problems facing society is increasing and the scale and complexity can feel overwhelming. Through the work of Urban@UW, those problems are framed in productive and actionable ways that allow us to align our goals and better understand our unique contributions towards a more just and beautiful future."
With CBE's support as well as ongoing development of other sustainable partnerships, Urban@UW has several efforts in the works for this academic year. The initiative continues to convene and support cross-boundary projects, on such topics as anti-displacement strategies, community resilience, supporting positive outcomes for youth, and multimodal streets. Urban@UW is also excited to begin evaluating best practices for supporting BIPOC junior faculty doing urban, community-engaged work.  
Additionally, Berney and Davison are taking the opportunity that Berney's new role provides to kick off an effort reflecting back at the last six years of projects, collectively accounting successes and challenges, as a first step in impact evaluation. This retrospective process will also include a spring 2022 event with the Urban@UW network and others, to celebrate and critique the initiative's work looking backward and forward, to expand the Urban@UW community, and to inform future work.