An Interdisciplinary Perspective
As an interdisciplinary college, we prepare professionals to seamlessly transition into cross functional teams. We see the collaboration among our five fields as an accurate reflection of our disciplines intersections in the real world and is what sets us apart from our peer institutions.
Through six research labs, four centers and numerous initiatives, we are addressing the grand challenges of the 21st century—urbanism, globalism, and sustainability. Our faculty are engaging students through their research, solution implementation, and industry practice. Through data collection, site visits, interviewing clients, supporting design work, and generating conclusions, our students are active in the research process.
Because of our integrated model, our impact is vast. Locally and nationally, students are working on projects to integrate ecological vitality with economic and recreational opportunities, developing crisis and risk management plans, and advancing research and policies to support the healthiest and highest performing buildings. Globally, students are championing projects with various universities and communities around the world on initiatives to harvest fog in some of South America's most arid regions, designing schools for girls in Afghanistan, and learning about transportation systems in Northern Europe.
Why Live in Seattle?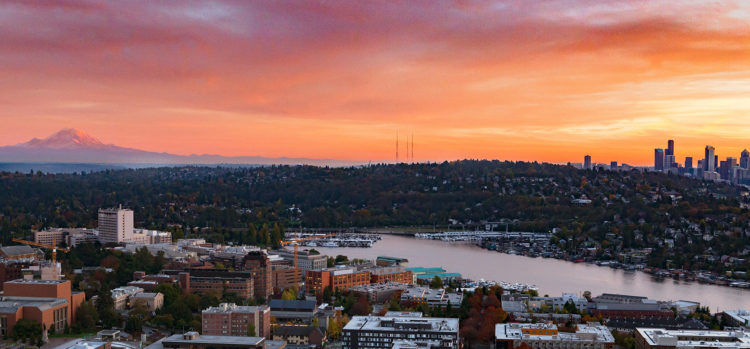 Seattle is a hub for innovation and a powerhouse driving business and technology. CBE students spend as much time out exploring our city and its surrounds as they do in the classroom. We encourage students to participate in the diversity of our culture and natural environment. This unique combination of people and opportunity provides students with endless possibilities to discover and define their futures.
3rd most innovative state (Bloomberg, 2016)
3rd in the nation for geographic diversity of residents (Geographic Diversity Index, 2016)
4th fastest-growing big city in the U.S. (U.S. Census, 2016)
7th out of 200 "best performing cities" when it comes to creating and sustaining jobs in America. (Milken Institute, 2015)
2nd leading global city for "tech, talent, tolerance, and 'quality of place' (Martin Prosperity Institute, 2013)