November 9, 2020
UDP Professionals Council Autumn Quarter Lecture Presents: Gil Kelley
Gil Kelley is the general manager of Planning, Urban Design, and Sustainability for the City of Vancouver, British Columbia. He is an internationally recognized urban strategist, having served as chief planner for several West Coast cities (including San Francisco, CA and Portland, OR) and as an independent advisor to cities and governments across the globe….
---
January 8, 2020
BE Studio Envisions a New Seattle Neighborhood
Architecture and planning students love to wrestle with big ideas. And while their end-of-the-quarter presentations sometimes include out-of-the-box ideas, they usually don't have the attention of public officials. But this time was different. Students with the University of Washington Built Environments Studio recently had former Governor Gary Locke, State Representative Gael Tarleton, and Seattle Office…
---
November 6, 2019
40 years of Design and Making: Celebrating the Life of Andy Vanags
Andris ("Andy") Vanags was instrumental in the initiation of the design/build program and the creation of furniture studios that have become hallmarks of the Department of Architecture. The furniture program has grown from a 3-credit course introducing students to the study of "making," to a 6-credit studio that now sometimes includes traveling to Denmark and…
---
October 23, 2019
Building New Global Connections
The UW Landscape Architecture Croatia Design/Build program gives students the unique opportunity to make a lasting, physical impact in their host community. Professor Daniel Winterbottom, an expert in the creation of healing and therapeutic gardens, leads the program. With Professor Winterbottom as their guide, students explore the role of restorative landscapes in the built environment…
---
October 19, 2019
Global Architectural History Teaching Collaborative Wins $1M Grant
The Global Architectural History Teaching Collaborative and Co-PI's Mark Jarzombek and Vikram Prakash are happy to announce its receipt of funding from the Andrew W. Mellon Foundation. This $1,000,000.00, three year award will allow GAHTC to fund the production of teaching modules, as well as Teacher-to-Teacher Workshops and Global Connections Fellowships. This is the third…
---
SENSOL Crosswalks project selected for Amazon Catalyst Fellowship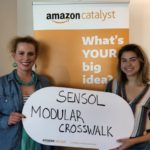 In July, seven new teams were selected as Amazon Catalyst Fellows. The teams are a mix of UW faculty, students, and staff from eleven departments across campus. Each team received funding to pursue a big idea focused on one of this round's themes: Computational Social Science or Urban Transportation. One winning team features CBE students,…
---
September 23, 2019
The Carbon Leadership Forum, in partnership with more than 30 industry leaders, announces breakthrough tool to easily evaluate carbon emissions of building materials
As the world builds the equivalent of an entire New York City every month, reducing the carbon emissions of materials is an imperative. The Carbon Leadership Forum, in partnership with a coalition of more than 30 forward looking and innovative building industry leaders announce that they have taken on a long-elusive goal – measuring and…
---
September 4, 2019
UW colleges, offices share three-year NSF grant to make 'internet of things' more secure
Several University of Washington schools and offices will team up to research how organizational practices can affect the interagency collaboration needed to keep the "internet of things" — and institutional systems — safe and secure. Cooperating in the work, funded by the National Science Foundation, will be the UW College of Built Environments, College of Arts &…
---
August 2, 2019
Congratulations to our 2019 Landscape Architecture Foundation (LAF) Olmsted Scholars
"Using ideas, influence, communication, service, and leadership to advance sustainable design and foster human and societal benefits."  These are the qualities of students recognized through the Landscape Architecture Foundation's Olmsted Scholars Program, considered one of the most prestigious national awards for students of landscape architecture. The College of Built Environments is proud to recognize two…
---
July 11, 2019
Archinect Deans List: Renée Cheng on How Comprehensive Design Can Engender Inclusivity
The Deans List is an interview series with the leaders of architecture schools, worldwide. The series profiles the school's programming, as defined by the dean — giving an invaluable perspective into the institution's unique curriculum, faculty and academic environment. Read entire Q&A on Archinect For this installment, Archinect spoke with current University of Washington College of Built Environments dean Renée Cheng….
---
Next page