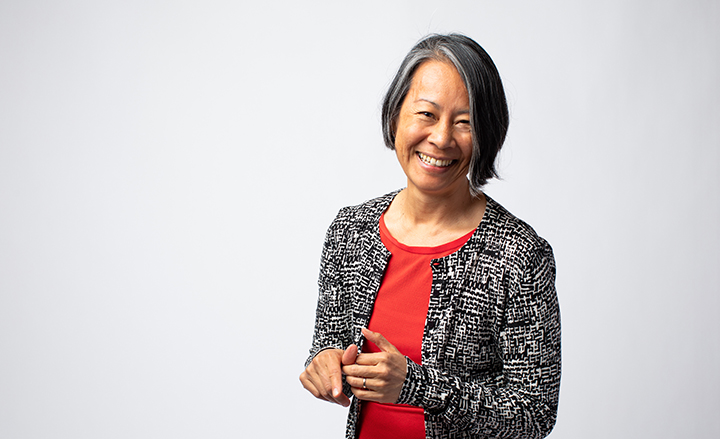 Renée Cheng comes to the University of Washington from the University of Minnesota, where she was professor and associate dean of its school of architecture and design. A licensed architect, Cheng is a leader in the American Institute of Architects and advocates for equity in the architecture field and practices related to the built environment. She joined the UW on Jan. 1.
Cheng answered questions about the college and her new role for UW News.
What is it about the College of Built Environments, the UW and the Seattle area — with its many challenges — that attracted you?
It was actually those challenges — particularly around housing and homelessness — that attracted me, especially because the College of Built Environments has a real chance to have an impact on an urgent societal issue. It goes without saying that housing and homelessness is incredibly important, but we also know that it's not the only "wicked problem" or grand challenge facing us. It's clear to me that the college can establish a method or approach to contribute positively to the dialogue and lead where we are best suited to do so.
You've had an interesting career path, starting your education with pre-med in mind, earning a bachelor's degree in psychology and social relations, and then a master's in architecture — and founding your own firm. How do these diverse experiences help inform your work?
It's easier to see now in hindsight, but all my choices have been based in trying to make a difference in the world through action and to take those actions with respect for humanity. I try to have my actions — whether they are large or small scale, on my own or with others — to be the best: with care, integrity and beauty.
What are some of your priorities coming in as dean, both in the short and longer term?
I'm fortunate to come at a time when our college, students and faculty are very strong. I'm not starting with a blank page, instead I'm helping add a chapter to a wonderful book. My first step is to speed-read that book to catch up with everyone else who understands it so well. That content includes internal college matters but also its partners, alumni and community as well as its past history and context.
Moving forward, I would love to amplify and enhance the college's contributions to advancing solutions to our most intractable problems that involve or include the built environments. I think most people know that College of Built Environments disciplines are good at looking to the future and designing beautiful places, but its even more than that: The college has great visionaries and designers, but they work with historians who know that the future is in the context of the past, and with scholars who understand the policy and financial models that shape the parameters in direct dialogue with designers. In the ideal world, faculty and students from our disciplines respect the distinct differences and find ways to work effectively to impact society.
In Seattle as in Minneapolis — where you headed the University of Minnesota School of Architecture / College of Design — there is a great focus on homelessness, housing affordability and density in communities. How can the college contribute to conversations on these topics and pursue solutions?
Housing, homelessness, affordability and density involve some of the most difficult issues in society and there needs to be a diverse set of skills and great depth of information brought to bear to make progress. Lots of good ideas with many insights and resources are needed to have constructive dialogue.
The college offers a great platform for multidisciplinary collaboration including a coalition of academic experts, students, communities, public and private institutions. In addition to providing the space for productive dialogue, we are able to envision scenarios and we are comfortable with holding open multiple parallel options simultaneously. This lateral thought process, sometimes called "design thinking," can be incredibly powerful to define and solve complex layered problems.
Coming decades will bring continued environmental challenges such as rising seas, warming temperatures and extreme weather. Innovation is bringing driverless cars, the proliferation of drones and more. How might — how must — the built environment world respond?
The built environment has already adapted, not always in positive ways, to changes in climate and technology. Changing in a positive way is the key.
We also need to realize that we don't just react to those forces of change, we have a responsibility to attend to the social justice implications of environments. Change will happen, it's guaranteed. Positive change is not guaranteed, it will take concerted efforts by colleges like ours to define, nudge, cajole and lead.
You are an advocate for equity in the built environment professions and recently led the research effort for the American Institute of Architecture's guides for equitable practice in the workplace. How will this inform your leadership in the college?
You asked earlier about my background; I think in many ways I've come full circle to my focus on human interaction and relationships. Practicing equity and inclusion have shown me that bridging across differences — cultural, gender, disciplinary — is at the heart of so many things I care about. It has also taught me that we learn through taking risks and making mistakes.
I love that the UW has been such a leader in equity, diversity and inclusion. President Cauce has set such a great example in her aspirational yet grounded approach, and she has well defined values that are clear and shared among the deans. It's impressive and exciting to be adding to this mix that which I have learned about equity in the practice of architecture.
---
Originally posted on UW News. Questions by Peter Kelley of UW News and Kailey Waring of the College of Built Environments.