In pursuit of our vision for a more just and beautiful world, the College of Built Environments is implementing an important part of our strategic framework: growing our capacity for collaborative interdisciplinary work with the goal of advancing climate solutions. We are excited to announce the first wave of CBE's new faculty cohort! Each brings new strengths and perspectives and as a group, they have the potential to be an effective team who, together with the excellent faculty already at CBE, will accelerate the positive impact of our teaching, research, and engagement.
One of the most important steps in implementing the College of Built Environments strategic framework is growing our capacity for collaborative interdisciplinary work with the goal of advancing climate solutions which are at the heart of our vision for a more just and beautiful world. In the college, we invested in a search process to bring a cohort of faculty to add to our already collaborative culture. Over this academic year, we have invested time and energy in mapping out research and teaching opportunities that these new faculty could join or initiate and checking that our culture was as welcoming as possible. This led to understanding departmental priorities and areas of opportunity for promoting college-level strategic goals. The result was a wonderful dialogue leading to an unprecedented cohort hiring effort launched in the Autumn Quarter.
The search attracted applicants from a wide range of disciplinary backgrounds and demographic diversity along many dimensions, including race, gender, and ethnicity. There were strong themes of using big data and machine learning to develop tools and processes to address disparities in built environments impacts as well as addressing climate mitigation. We were encouraged by the response to the call, yet realize there is much work still to be done. We are committed to continuing this work next year with additional searches, considering tenure-track and teaching-track opportunities. The compelling vision for the cohort attracted positive responses from across the world for applicants and nominations. Closer to home at UW, the Provost recognizes the hard work to develop our goals and initiate this search and he congratulates us on our success. The strength of our alignment with UW priorities created synergies that brought funding from sources such as the UW Office of Provost, Office of Research, Office of Faculty Advancement, Clean Energy Institute, and the Escience Institute.
The first of its kind for the College of Built Environments at the University of Washington, this faculty listing for an interdisciplinary cohort attracted applications from across the globe with a broad range of collaborative research and teaching interests. We are thrilled with the interest, and excited to welcome and support our new faculty who will continue to expand our capacity as we seek to develop opportunities for engaging and investing in our communities in an effort to build a more just and beautiful future.

– Ken Yocom, faculty lead for the cohort hire
The College of Built Environments is thrilled to welcome this esteemed cohort of new interdisciplinary faculty to our community. Read about each of the full-time tenure-track faculty below.
Narjes Abbasabadi
Architecture 

Narjes Abbasabadi, Ph.D., is an architect, researcher, and educator. Dr. Abbasabadi currently serves as an Assistant Professor of Architecture at the University of Texas at Arlington. She earned her Ph.D. in Architecture from the Illinois Institute of Technology (IIT). She also holds master's and bachelor's degrees in architecture from Tehran Azad University. Prior to joining UTA, she taught in the College of Architecture at IIT. Dr. Abbasabadi's research investigates sustainability, environmental technologies, and computation in the built environment. Much of her work focuses on developing frameworks and tools to investigate urban building energy systems, human-energy interactions, ambient intelligence, and sensing to enable dynamic exploration of performance-driven and human-centered design. Her work has been published in premier journals, including Applied Energy, Building and Environment, Energy and Buildings, and Sustainable Cities and Society.
Dr. Abbasabadi received honors and awards, including "ARCC Dissertation Award Honorable Mention" (Architectural Research Centers Consortium (ARCC), 2020), "Best Ph.D. Program Dissertation Award" (IIT CoA, 2019), and 2nd place in the U.S. Department of Energy (DOE)'s Race to Zero Design Competition (DOE, 2018). In 2018, she organized the 3rd IIT CoA International Symposium on Buildings, Cities, and Performance. She served as editor of the third issue of Prometheus Journal, which received the 2020 Haskell Award from AIA New York, Center for Architecture. She has practiced with several firms and institutions and led design research projects such as developing national design codes and prototypes for low-carbon buildings. Most recently, she practiced as an architect with Adrian Smith + Gordon Gill Architecture (AS+GG), where she has been involved in major projects, including the 2020 World Expo.
Celina Balderas Guzmán
Landscape Architecture

Celina Balderas Guzmán works across environmental planning, design, and science on a diverse set of research projects broadly focused on water flows, particularly coastal climate adaptation, urban stormwater, and green infrastructure. In adaptation, Celina studies how shoreline strategies for sea level rise could shift socio-ecological vulnerabilities at a regional scale in the future. Specifically, she uses ecological modeling to examine the impacts of future shoreline hardening/softening on coastal wetlands and the communities that depend on them for coastal protection. By documenting these interactions, Celina's research contributes to greater effectiveness in adaptation to sea level rise at a regional scale.
In urban stormwater, Celina studies how pollution relates to the urban form and human activity of watersheds using data science methods in collaboration with environmental scientists. Before studying its root causes, Celina developed green infrastructure designs to address stormwater pollution and flooding. In collaboration with environmental engineers, Celina created innovative designs for wetlands that combine hydraulic performance, ecological potential, and recreation into one landscape form.
Her research has been funded by the National Science Foundation, National Socio-Environmental Synthesis Center, UC Berkeley, UC Berkeley Global Metropolitan Studies, and the MIT Abdul Latif Jameel Water and Food Systems Lab. She is completing a PhD in the Department of Landscape Architecture and Environmental Planning at the University of California, Berkeley in summer 2022. From MIT, she obtained two masters degrees in urban planning and urban design, as well as an undergraduate degree in architecture.
Dylan Stevenson
Urban Design and Planning

Dylan Stevenson's (Prairie Band Potawatomi descent) research examines how culture informs planning strategies and influences land relationships. More specifically, he investigates how tribal epistemologies structure notions of Indigenous futurities by centering Indigenous cultural values at the forefront of environmental stewardship and cultural preservation. He is currently working on a project researching how governments (Federal, State, and Tribal) embed cultural values in Water Resources Planning strategies, drawing from ethnographic research he conducted in the joint territory of the United Keetoowah Band of Cherokee Indians and Cherokee Nation in Oklahoma. His other research interests include ecological restoration, intangible cultural heritage, and food systems planning. Previously, Dylan has worked for public and quasi-public entities dealing with the implementation and compliance of local, state, and federal legislation in California and has forthcoming work analyzing Diversity, Equity, and Inclusion (DEI) initiatives in planning programs.
Dylan is currently a Ph.D. Candidate in the Department of City and Regional Planning at Cornell University. He earned his master's degree in Planning with a concentration in Preservation and Design of the Built Environment from the University of Southern California, a bachelor's degree in Linguistics with a minor in Native American Studies from the University of California—Davis, and an associate of arts degree in Liberal Arts from De Anza College.
Lingzi Wu
Construction Management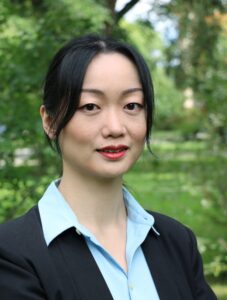 Dr. Lingzi Wu is a postdoctoral fellow in the Department of Civil and Environmental Engineering at the University of Alberta. She graduated from Tianjin University with a dual degree in Civil Engineering and English in 2010 and obtained her MSc and PhD in Construction Engineering and Management from the University of Alberta in 2013 and 2020 respectively. Prior to her PhD, Dr. Wu worked in the residential construction sector as a site engineer with Changzhou Erjian from 2010 to 2011 and in the industrial construction sector as a project coordinator with PCL Industrial from 2013 to 2017.
An interdisciplinary scholar focused on advancing digital transformation in construction, Dr. Wu's current research interests include (1) integration of advanced data analytics and complex system modeling to enhance construction practices and (2) development of human-in-the-loop decision support systems to improve construction performance (e.g., sustainability and safety). Dr. Wu has published 10 papers in top journals and conference proceedings, including the Journal of Construction Engineering and Management, Journal of Computing in Civil Engineering, and Automation in Construction. Her research and academic excellence notable recognition, including a "Best Paper Award" at the 17th International Conference on Modeling and Applied Simulation.
As an educator and mentor, Dr. Wu aims to create an inclusive, innovative, and interactive learning environment where students develop personal, technical, and transferable skills to grow today, tomorrow, and into the future. The effectiveness of her teaching is evidenced by students' comments that can be found at https://xiaomoling.github.io/PersonalWebsite/#/teaching.
Ruoniu (Vince) Wang
Real Estate

Ruoniu (Vince) Wang joins CBE's new faculty cohort from Grounded Solutions Network, a national nonprofit organization promoting inclusive communities through housing strategies with lasting affordability. In his capacity as the Research Director, Vince spearheads the organization's research agenda to track the prevalence, practice, and impact of shared-equity homeownership programs. He compiled the first census of inclusionary housing in the U.S. and currently leads a census of community land trusts in North America.
More generally, Vince studies spatial justice and inclusive communities, including their impacts reflected in the built environment, human behaviors, and policy interventions. He was/is the PI/Co-PI of eight funded research projects totaling over $1 million. Vince grounds his research with applied tools to democratize data for low-income communities. His work has been published in academic journals such as the Journal of the American Planning Association, Urban Studies, Housing Studies, and Housing Policy Debate, as well as through other publishers such as Lincoln Institute of Land Policy, Cityscape, and Shelterforce.
Vince received his masters and doctorate in Urban and Regional Planning with a minor in Real Estate from the University of Florida. In 2005, he spent one year at CBE as an undergraduate exchange student from China. Vince is excited about his new role as a scholar and educator that builds upon extensive professional experience in public, nonprofit, research, and for-profit sectors.