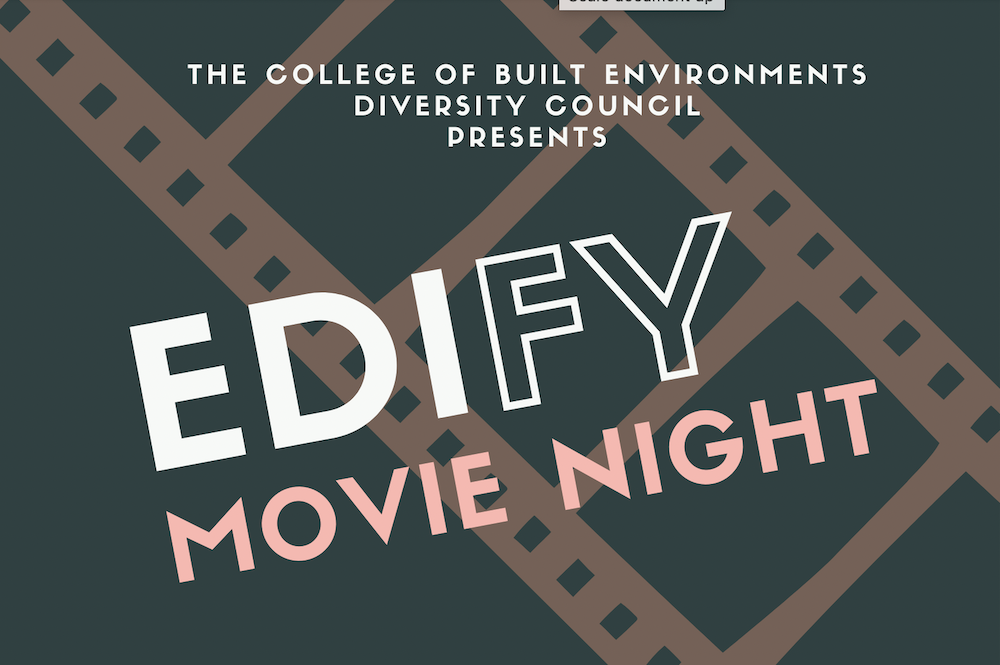 Our EDIFY event series was established in spring 2022 by the CBE Diversity Council as a way to explore issues around equity, diversity and inclusion in the built environment, through the lens of creative expression.  Our inaugural event for the CBE community was focused on the medium of short films, featuring a collection centered on the topic of equity, diversity and inclusion in the built environments.  The films were selected to reflect on the theme: "Acknowledging Land: Past, Present, and Future".  Faculty, staff and students gathered for an evening to screen the shorts together and inspire conversation.
EDIFY was launched and organized by CBE staff members Claudine Manio and Nancy Dragun, in collaboration with UW Cinema & Media Studies lecturer Warren Etheredge.  A veteran film producer and festival programmer, Etheredge … something from Warren about why these films were chosen
Films shown included the following:
THEATRE ACKNOWLEDGEMENT
(1:58) Baroness von Sketch
THE DUWAMISH, PEOPLE OF THE INSIDE
(6:03) Seattle Channel
THE FUTURE OF CITIES: INEQUALITY
(2:28) Hong Kong University Faculty of Architecture
SEGREGATED BY DESIGN
(17:42) Mark Lopez
THE FUTURE OF CITIES: INFORMAL
(3:00) Hong Kong University Faculty of Architecture
A BROKEN HOUSE
(20:44) Jimmy Goldblum
POPCOURTS AT CHICAGO
(3:00) Brodie Kerst / AIA Film Challenge 2021
SANCTUM
(6:40) Evan Mather
YOUTH ACHIEVEMENT CENTER: FOR YOUTH BY YOUTH
(2:57) Lahmi Kim / AIA Film Challenge 2021
PILI KA MO'O
(13:46) Justyn Ah Chong
Programming was inspired by this question: the University of Washington has a land acknowledgement, but why is land acknowledgement important?
Throughout history, land has been a symbol of power and wealth, oftentimes acquired and developed by displacing those without either. The history, sense of place, and rich culture that took generations to build are dishonored and erased. The UW Land Acknowledgement brings awareness to the longstanding history of the indigenous people of the land on which our university sits. However, land acknowledgement should not exist in the past tense. It is an ongoing process – continuing today and into the future within our city and cities around the world.
Through the series of short films we drew connections between a variety of narratives about land "values"- in our country and abroad. From the stage manager who just wants to get on with the show, to the historian who animates redlining, to the developer reimagining suburban LA, to the Syrian architect tirelessly recreating home, this collection of short films encourages us to reconsider whose land we live on and how we all might become better stewards and better neighbors. Each film serves as a case study which invites us to reflect on the historical, cultural, political, and ecological impacts on land.