The College of Built Environments was happy to host NOMA's Project Pipeline in Gould Hall.
History
In 1971, twelve African-American architects from different parts of the country met, some for the first time, during the AIA National Convention in Detroit. These professionals recognized a need for an organization dedicated to the development and advancement of minority architects to help bring more diversity into the field.
Making it Local
"From the time of the first black-owned architecture firm of Ben McAdoo to Leon Bridges to Mel Streeter to Donald King, FAIA – [the Pacific Northwest] has been home to some of the most talented minority architects in the region." (NOMA NW) However, our region lacked a central resource connecting professional architects of color.
In 2008, a group of design professionals convened to discuss the absence of this vital resource. With California SoCAL and SFNOMA as the only west coast NOMA affiliates that existed at the time, the group decided to create their own NOMA chapter in the Pacific Northwest. Thus, NOMA Northwest was formed.
Project Pipeline
In an effort to expose young people to the field, Project Pipeline was created in 2002. The first camp was held in 2006 in Cincinnati by the South West Ohio NOMA chapter. Since then dozens of camps have been held in more than twenty cities and in 2012 a formalized curriculum was implemented nationally.
"Project Pipeline serves a diverse population of students, all of whom are underrepresented in the design field. Through Project Pipeline, young people grasp the significance of architecture in their daily lives, as well as the broader cultural, social, and historical implications."
Project Pipeline has served more than 10,000 students over the last decade.
NOMA NW started its work with local youth 3 years ago with a Hip-Hop Architecture Camp. Following that, they decided to move in a different direction and start utilizing the Project Pipeline Curriculum.
Present
NOMA NW's previous Project Pipeline program was held virtually due to the pandemic. This year, they were able to hold it in person. During the week-long program, middle school students have the opportunity to think about how to improve their own communities through design. This year, students were able to work on a real project site – a food distribution and community center in Seattle's Rainier Valley. "We selected a neighborhood for the project site within the African American community, and familiar to the majority of the students. In this way, they are more engaged or connected to the project," said Susan Frieson, NOMA NW Project Pipeline Committee Co-Chair and Senior Associate at Weber Thompson.
There were four to five buildings and two sites that were across the street from each other and the youth were able to choose which side of the street they wanted to build on and come up with their program based on what they had program rooms or spaces for each one of the buildings.
They think about it, lay it out, build models, create floor plans, and present at the end of the program. Throughout the program, they are taught about scaling and drawing.
"Project Pipeline reaches out to minority students to expose them to architectural elements and to get them to learn what it's like to be an architect," said Leon Holloway, President, NOMA NW. We have them take a look at their neighborhood and their context to understand the social issues around them and make them aware of what's going on around them in the built environment. We hope this gets them more interested in architecture and the design profession."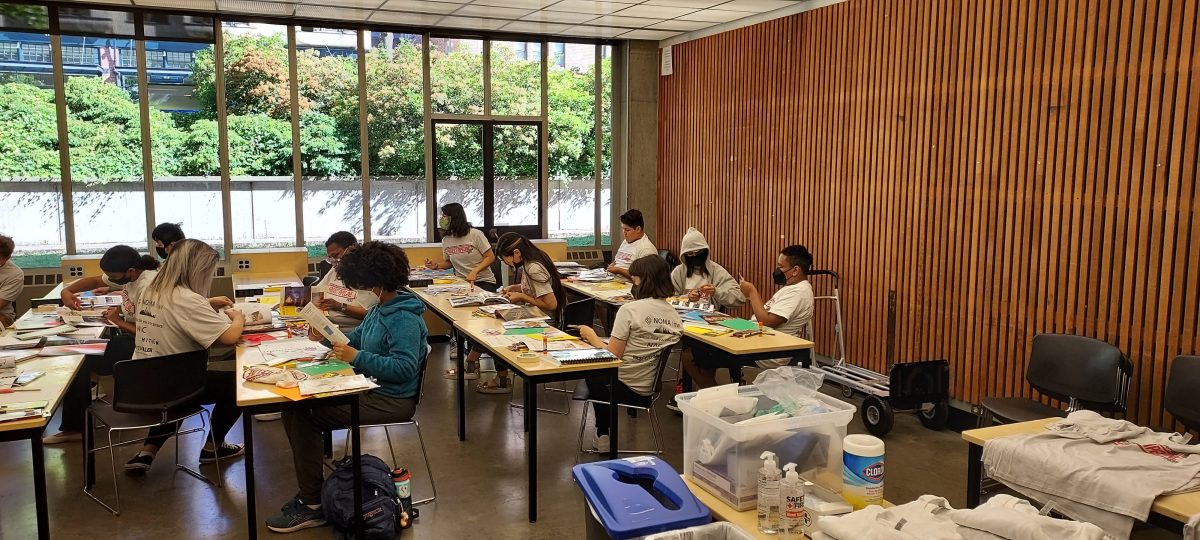 They were able to take a tour of the college's Fabrication Lab, and also the new Public Health Building. They had the opportunity to hear from Dean Renée Cheng, and Donald King, affiliate professor of architecture.
Throughout the week, 45 volunteers were there to help the kids learn and 12 youths participated this year, a number they hope continues to grow. They plan to partner with the Urban League in Seattle to help spread the word for next year.
"It was a pleasure to be with the students and see how they processed their ideas through making. I enjoyed watching and guiding the students to choose their own materials and build in three dimensions." – Cheryl Jacobs NAC| Architecture
"The interest of the students spanned a broad range. Some were there because their friends were there. Some were there because their parents signed them up and they had no interest (and weren't afraid to tell us that!). But some were there because they truly were interested in the subject matter. Volunteers had to find ways to connect with all students and it wasn't always architecture that brought up the most interesting conversations. Video game design, sustainable measures such as PV panels or green walls, and even colors seemed to spark the most genuine conversation. And when the volunteers were able to connect, even for ten minutes or so, those moments were very special." – Michelle Ha KMB Architects
"I had always participated in my communities Middle School Career Days and loved sharing the opportunities that the design profession can provide for students looking for a creative career. So being able to participate in the NOMA NW Project Pipeline this year to engage and share my passion for the design profession with students that already have an interest in architecture and design was very rewarding!" – Bill Valdez KMB Architects