Past Exhibits in Gould Gallery
January 10–27, 2022
The work of the Autumn 2022 CBE McKinley Futures interdisciplinary studio was on display in this exhibit. The studio collaborated with the Shoalwater Bay Indian Tribe on the Pacific coast to help them plan and design an upland expansion in response to climate change-driven sea level rise and other threats to coastal ecosystems and habitation, such as changing patterns of erosion and sedimentation, co-seismic subsidence and tsunami hazards.
The exhibit showcased an array of culturally appropriate and technologically innovative strategies that advance the Tribe's existing planning priorities –e.g., resilient green buildings, green infrastructure, edible trails, food sovereignty, and health & well-being -to reassert long-term cultural identification with place.
Radical Botany:
Speculative Landscapes for Uncertain Times
November 14–December 16, 2022
Will trees save us from the ravages of climate change? What lessons can moss "forests" teach us about resilience and the ethic of care? Are "weeds" ever "good"? Do trees communicate and if so, what are they saying? Where do the boundaries between plants and people, past and future, blur? We invite you to enter the forest–at once a conceptual process and grounded journey in the wake of loss through shared rituals of environmental mourning.
This exhibit was a product of Elizabeth Umbanhowar's Summer 2022 Landscape Architecture 402 undergraduate studio and was originally featured at the Seattle Design Festival.
Spirited Stone:
Lessons from Kubota Garden
January 10–March 12, 2022
This special exhibit, the first to feature objects from Kubota Garden, is curated by UW alumni, and features essays from UW College of Built Environments faculty and former students taken from the new book Spirited Stone: Lessons from Kubota's Garden.
Included in the exhibit: The garden's Rainforest Bell, by artist Toshiko Takaezu; photos from the 2014 Ishigaki Workshop that built the stone wall for the Terrace Overlook; an updated Kubota Garden master plan; and models of the Terrace Overlook and future visitor center.
The exhibit is sponsored by the College of Built Environments, Kubota Garden Foundation, Jones & Jones Architects.Landscape Architects.Planners, Hoshide Wanzer Architects, and 4Culture.
Visit spiritedstone.wordpress.com to learn more about the book and this project.
Mind's Eye Sketchbook:
Celebrating 50 years of art and observation by John Owen
November 18–December 3, 2021
John Owen, artist, urban designer, architect, planner, and storyteller, is Partner Emeritus at MAKERS architecture and urban design. As a constant observer, critic, and thinker, he has dedicated his life to understanding the human experience, natural systems, and cultural change and applying his observations to help create people-oriented places that foster healthy ecological systems. From his UW architecture thesis analyzing the evolution of Seattle's popular house types, to the seminal street design for the then struggling Ballard Ave and Capitol Hill's Broadway, to helping rural communities through early growth management planning, to transit station and neighborhood design and planning, to incorporating design ideas based on behavioral science into the region's first sets of design guidelines, to helping to develop Washington State's Shoreline Management Act Rules, to planning for regional open space systems, he has led the urban design field in the Pacific Northwest for nearly 50 years.
This show provides a glimpse into John's art. His sketches and renderings span the breadth of city, architecture, and natural systems observation as well as cultural critiques and celebrations over decades. It offers a rare opportunity to see John's process and progress behind the scenes as he led the urban design profession in the Pacific Northwest. He is proud to participate in this event benefiting the UDP Equity Fund, which provides scholarships to deserving BIPOC students and helps to racially diversify our professional community.
Rome and the Teacher, Astra Zarina
an exhibition presented by Steven Holl
Gallery exhibit hours:
October 4–November 12, 2021
closed Veterans Day
M/W/Th/F 12–5 pm
Tu 12–7 pm
A tribute to architect-educator Astra Zarina, Rome and the Teacher features photography, architectural models, historic maps and theoretical writing reflecting her advocacy for responsible design.
Rome photography by Balthazar Korab, who collaborated with Zarina on the 1976 book Roofscapes of Rome stretches around the gallery on 40-inch fabric prints. Astra's work restoring the village of Civita di Bagnoregio is celebrated in the "Astra Zarina Memorial Belvedere" models and drawings by her student Steven Holl. A wall of early projects 1970–1989 shows Steven's first works upon returning from Rome.
Presented by Steven Holl Architects
Exhibit design by Dimitra Tsachrelia (Steven Holl) in collaboration with Alessandro Orsini and Nick Roseboro (Architensions)
Lecture by Steven Holl
October 21, 2021, 5:30 pm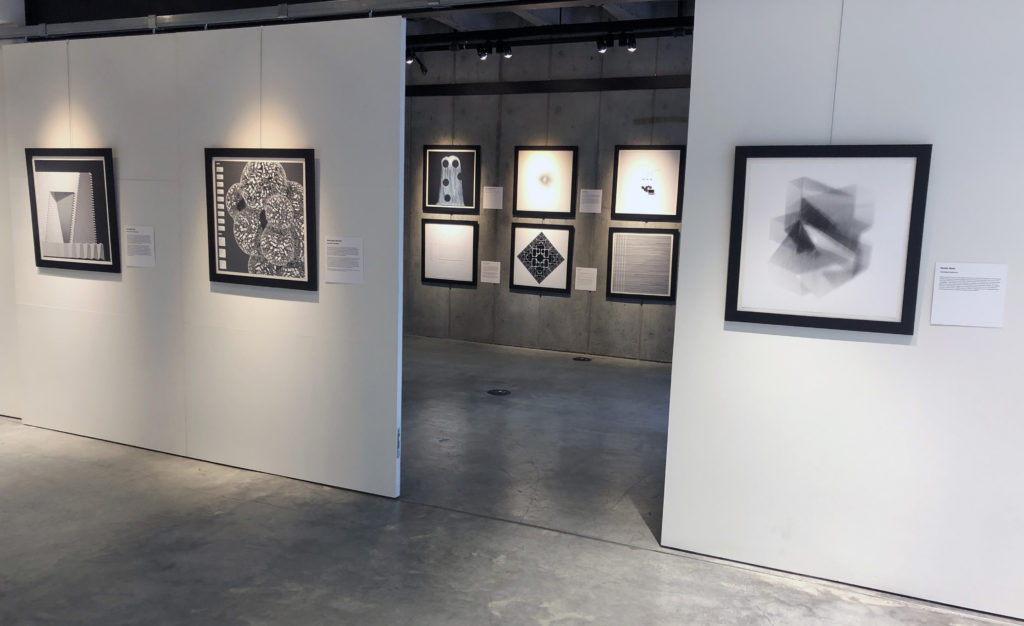 Drawing Codes, Vol. II
Experimental Protocols of Architectural Representation
Organized by the Digital Craft Lab at California College of the Arts
Presented by University of Washington College of Built Environments and The Miller Hull Partnership
February 3 through March 13, 2020
Gallery exhibit hours:
Mon/Wed/Thu/Fri — 11:00 am to 4:30 pm
Tue — 11:00 am to 7:00 pm
closed weekends and February 17
Curator's talk and reception:
February 5, 6:00 pm
Architecture Hall 147
Emerging technologies of design and production have opened up new ways to engage with traditional practices of architectural drawing. The 24 drawings commissioned for Volume II of this exhibition explore the impact of such technologies on the relationship between code and drawing: how rules and constraints inform the ways architects document, analyze, represent, and design the built environment.
Each drawing engages with at least one of the below prompts that begin to expand the notion of code as it relates to architectural design and representation:
Code as generative constraint. Restrictive codes often govern what is permitted and what is prohibited. Examples of this include building codes, urban codes, zoning codes, accessibility codes, and energy codes. How can such constraints become generative, opening up opportunities for design and representation?
Code as language. A code can be understood as a set of rules, conventions, and traditions of syntax and grammar that structure the communication of information. The discipline of architecture similarly has its own language of typologies, taxonomies, and classifications. How can drawing engage with such architectural languages?
Code as cipher. Encoded or encrypted messages are intended to hide or conceal information. Likewise, architectural geometries, forms, spaces, and assemblies are embedded with invisible organizational, social, political, or economic logics that may not be immediately evident. How can drawing engage with these latent meanings and messages?
Code as script. A code can be understood as a script or a recipe: a set of instructions to be executed or performed by a computer, a robot, or (in the case of theater or film), an actor. Scripts often produce unexpected discrepancies between the intent of the code and how it is executed. How can drawing explore these open-ended processes that may not have a defined outcome?
Memory and Place
A contemporary art exhibition featuring the works of Morehshin Allahyari, Sara Zewde and Trinh Mai. This exhibit will explore how art can forge connections in the present to places and past memories. This exhibit is free and open to the public.
April 3 through May 2, 2019
Open Wednesday through Friday, 11 am – 4 pm and Saturday, 11 am – 4 pm.
Closed Sunday, Monday, Tuesday.

Images, artifacts, and video representing discoveries by the 2018 UW Runstad Fellows in Cape Town and Johannesburg, South Africa. The Fellows examined how the lens of race and social justice informs the post-apartheid built environment with attention to informality found in housing, economy, public realm, and climate change. Seeking ideas that may provide paradigm shifts for Seattle, they learned about Ubuntu, a South African concept that we recognize and value each other through our shared humanity. This concept weaves throughout their findings, and holds myriad potentials to inspire a more sustainable and resilient future.
March 4 – 13, 2019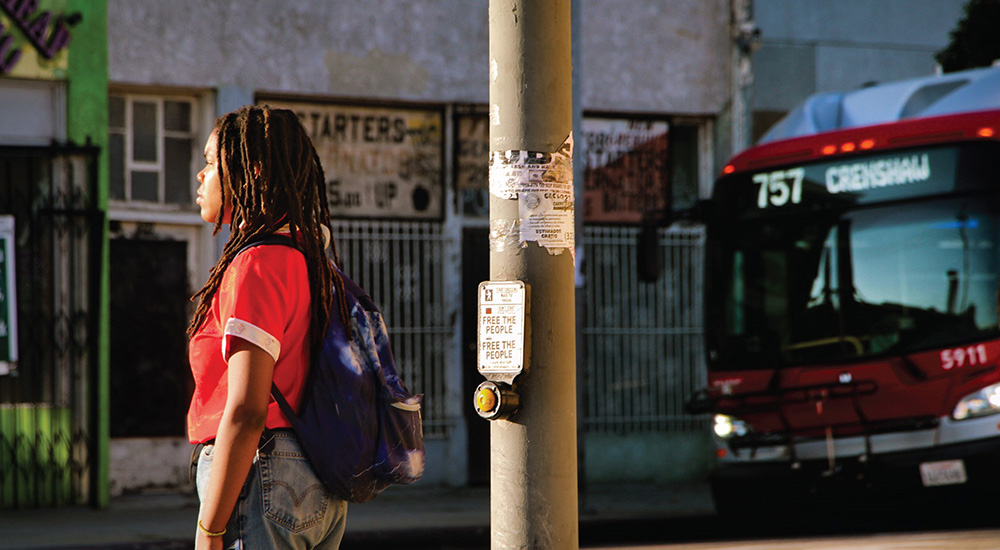 This exhibit features art exploring the themes of black visibility and shifting spaces in community. Photography by Dr. Matthew Miller (University of Pennsylvania Post Doctoral Fellow, City and Regional Planning) and Jessica Rycheal (Everyday Black); sculpture by Keith Murakata.
February 5 through 28, 2019
Open M/Tu/Th/F 12-5 pm W 12-7 pm
Closed weekends and Presidents' Day
Exhibit sponsors:
UW College of Built Environments
UW Department of Urban Design and Planning
BE Art & Urbanismrt & Urbanism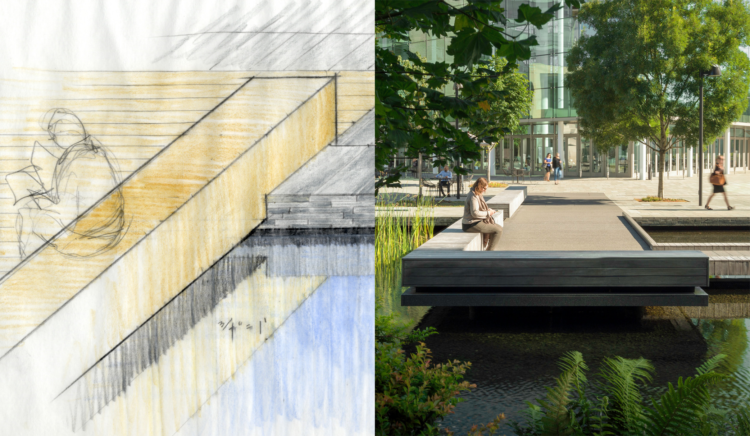 Paper to Place
An exhibit capturing GGN's process in designing three-dimensional landscapes through two-dimensional inquiries and discoveries.
Drawings by GGN
Photographs by Catherine Tighe
September 26 through December 7
Open  M/Tu/W/F 12-5pm  Th 12-7pm
Closed Weekends and 11/12, 22, 23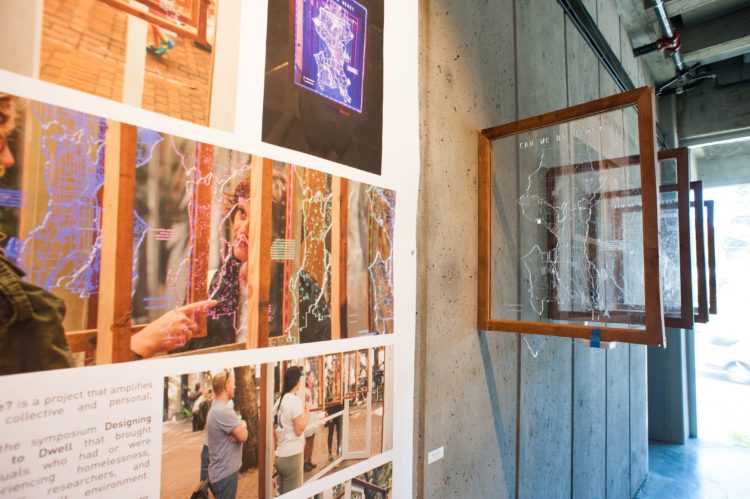 As municipalities direct more attention to advancing sustainability as a planning solution, where are the blind spots in addressing social equity alongside the environment and the economy, and how can they be corrected?
Equitable development is an approach for meeting the needs of underserved communities through policies and programs that reduce disparities while fostering places that are healthy and vibrant. As our communities grow we should leave no one behind.
In this exhibition, students and faculty present responses to this challenge with a range of designs, ideas, and artwork reflecting the diversity of the departments and degree programs in the College of Built Environments.
Building Blocks charts the grassroots evolution of a community outreach studio offered by the University of Washington College Built Environments.
Since 2003, Director Jim Nicholls has been leading groups of architecture, landscape, and planning students to partner with local small towns to study their main streets. The exhibit and book documents the process followed and the results achieved. A set of building blocks, or tools for community-engaged design, is illustrated with field-tested examples.
The Storefront Studio is dedicated to investing the academic capital of the UW Department of Architecture in close partnership with the social capital of local communities. Our goal is to strengthen the connections between the members of a community and their physical setting, providing anchors for authentic emergent identities, resilient economic growth and inclusive social interaction.
The exhibit is open March 26 through May 4, 2018.
M/Tu/W/F 12-5 PM, Th 12-7 PM. Closed: Sa/Su
A special reception and book release will be held on April 25 from 5:00 PM – 6:30 PM.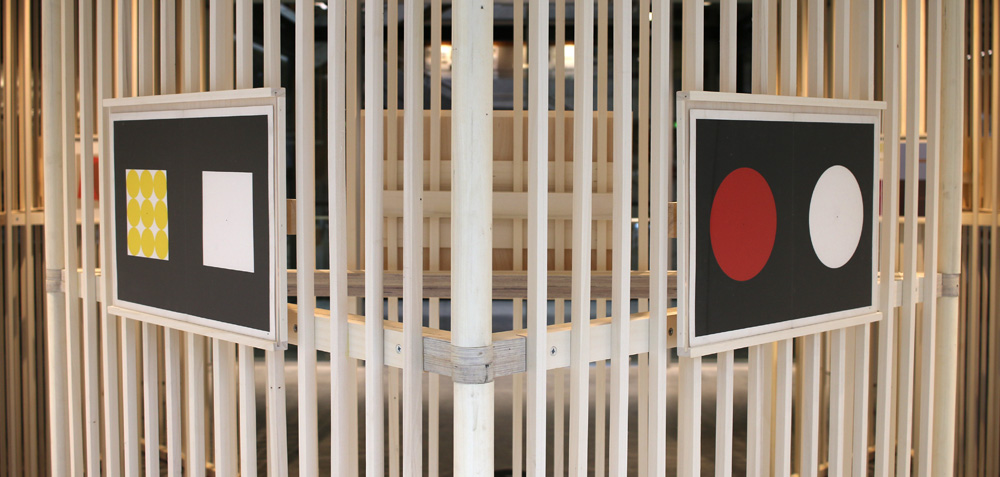 Color, A Magic Power
Selected Plates from Josef Albers's Interaction of Color
By special arrangement with the University of Oregon College of Design, the University of Washington College of Built Environments presents Color, A Magic Power. The exhibition features selected plates from Interaction of Color, the 1963 masterwork by artist and educator Josef Albers (1888 – 1976).
Esther Hagenlocher, Associate Professor of Architecture and Interior Architecture at the University of Oregon School of Architecture & Environment, curated the exhibition. Interaction of Color is mounted on an innovative traveling display framework inspired by the triangular studies of Anni Albers. It was designed by Landry Smith and was built in Oregon for use in the Wallace and Grace Hayden Gallery at the University of Oregon School of Architecture & Environment.
February 14 through March 14, 2018. Open: Tu/W/F 12 – 5 PM; Th 12 – 7 PM; Closed: Sa/Su/M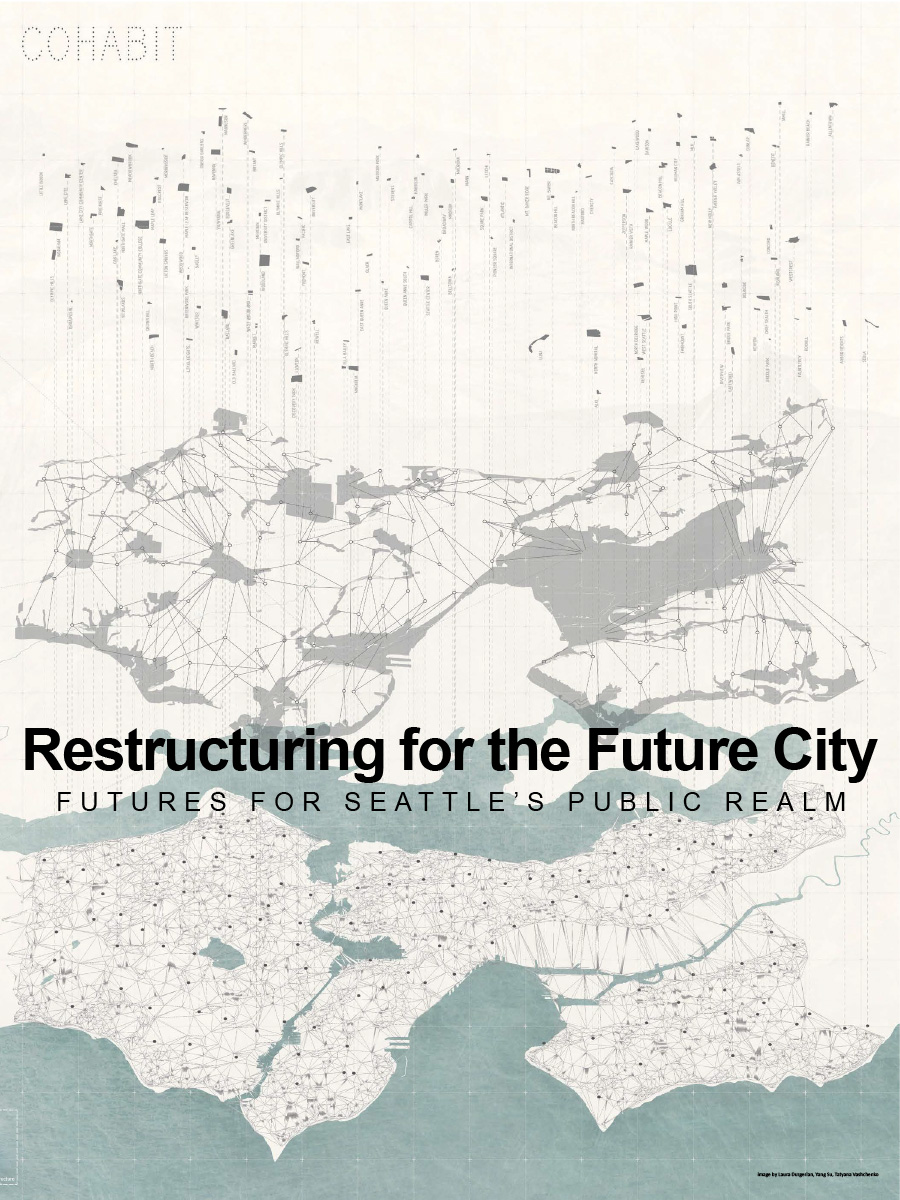 The UW College of Built Environments hosted an exhibit of the Spring 2017 McKinley Futures Studio – Restructuring for the Future City, which showcased the work of graduate and undergraduate landscape architecture, architecture, planning and construction management students in the College of Built Environments and design students in the School of Art + Art History + Design. Working in teams, the students were challenged to think about how to leverage Seattle's public realm for both its near and far futures.

The UW Landscape Architecture department hosted a retrospective exhibit to celebrate the life and career of Kenichi Nakano. A dear member of our community, Kenichi was first a student in the department, then a professor, and always a mentor. His more than 30-year career helped to shape the contemporary profession of landscape architecture in the Pacific Northwest.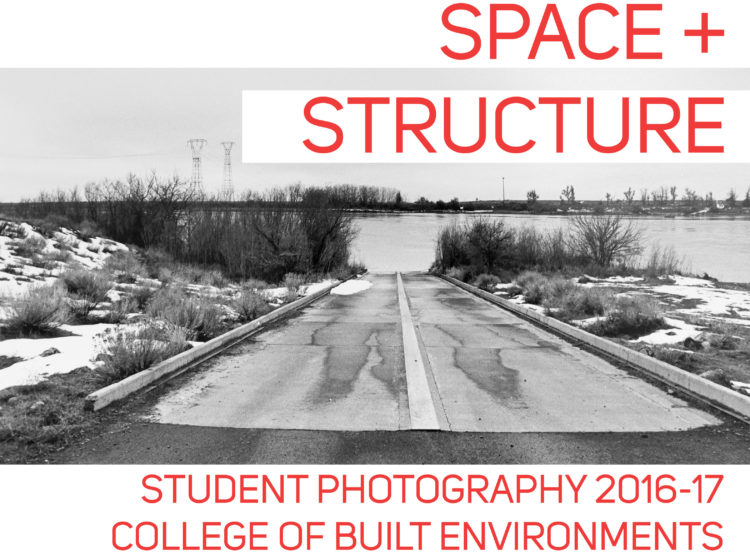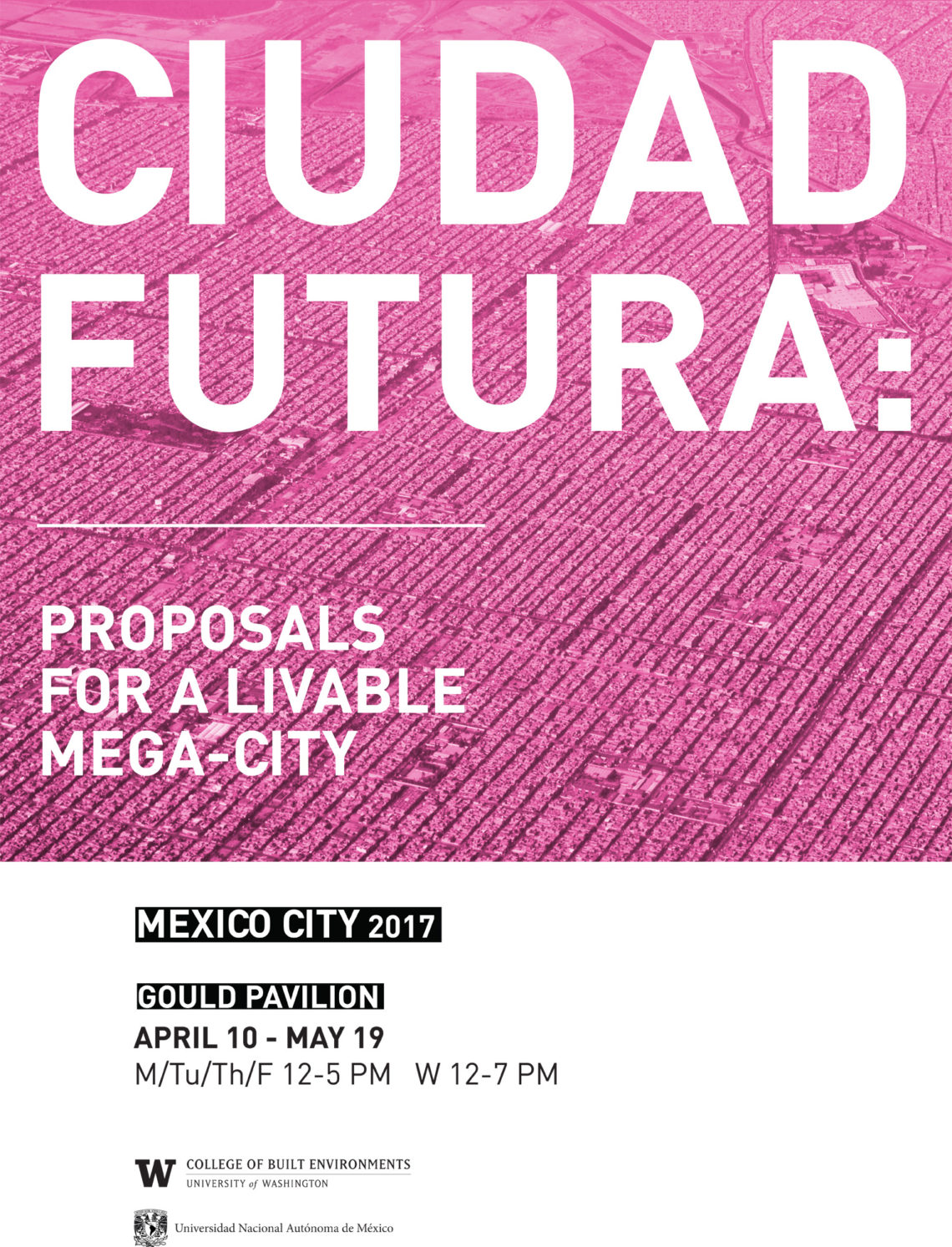 Great cities offer great lessons. Mexico City is an ideal laboratory for students in the built environments fields. With a population close to 25 million people, this mega-city provides a unique urban experience – a place that is constantly reforming and adapting to new and changing landscapes.
This exhibit highlights the experiences and projects of the 12 students who participated in the Department of Architecture's Mexico City study abroad program. Held in the Luis Barragan studio, the students spent 10 weeks walking the surrounding streets visiting neighboring townships and hearing from local design experts to learn about the design culture, context, and environment of this expansive metropolitan.
The exhibit also showcases a series of historic images of Mexico City provided by the Universidad Nacional Autonoma de Mexico. The photographs document the urban from the 1930s to the 1960s – a time of rapid change and growth.
About the Studio:
For the fourth Mexico City Studio, the Department of Architecture challenged students to address the issues of affordable housing and access to public resources, while sustaining the region's identity, community, and history. Professor Dave Miller and Cory Mattheis, M. Arch '11, tasked the students with designing a new zoning proposal for the San Miguel Chapultepec neighborhood. While each student had an individual site, collectively their proposals needed to add up to a larger statement about the neighborhood and city. Miller and Mattheis encouraged proposals that would increase density while respecting the existing context of the area. Read more about the course and the student experience at: Mexico City Studio: Affordable Housing in a Mega-City.
Miller Hull Partnership
January 1 – March 3, 2017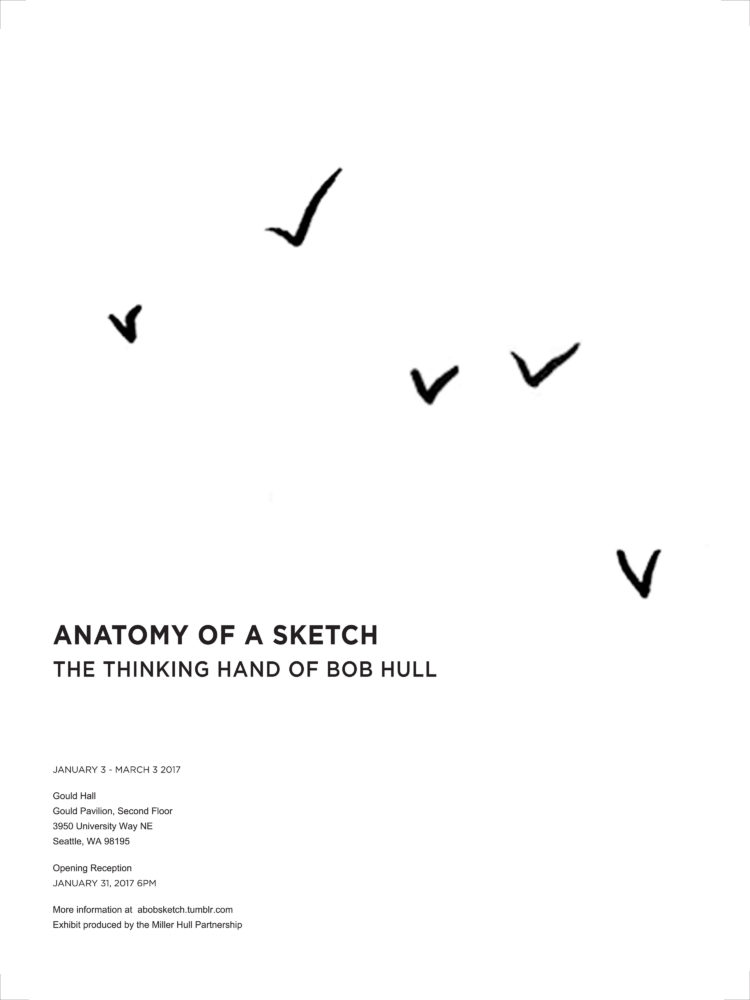 This exhibit used sketches to reveal the design process of Miller Hull founding partner, Bob Hull, FAIA (1945-2014). The pen was his medium for having a design conversation. Bob drew to make sense of things and he drew for the sheer joy of making marks. Visitors will had a view into the architect's process and will see the development of two signature Bob Hull projects-Seattle's Fisher Pavilion and Wilsonville's Willamette River Water Treatment Plant-through the architect's hand drawings. Bob was a founding member of the Miller Hull Partnership, based in Seattle.
Visit the ongoing collection of Bob's Sketches at: A Bob Sketch
AIA Seattle
November 1 – December 9, 2016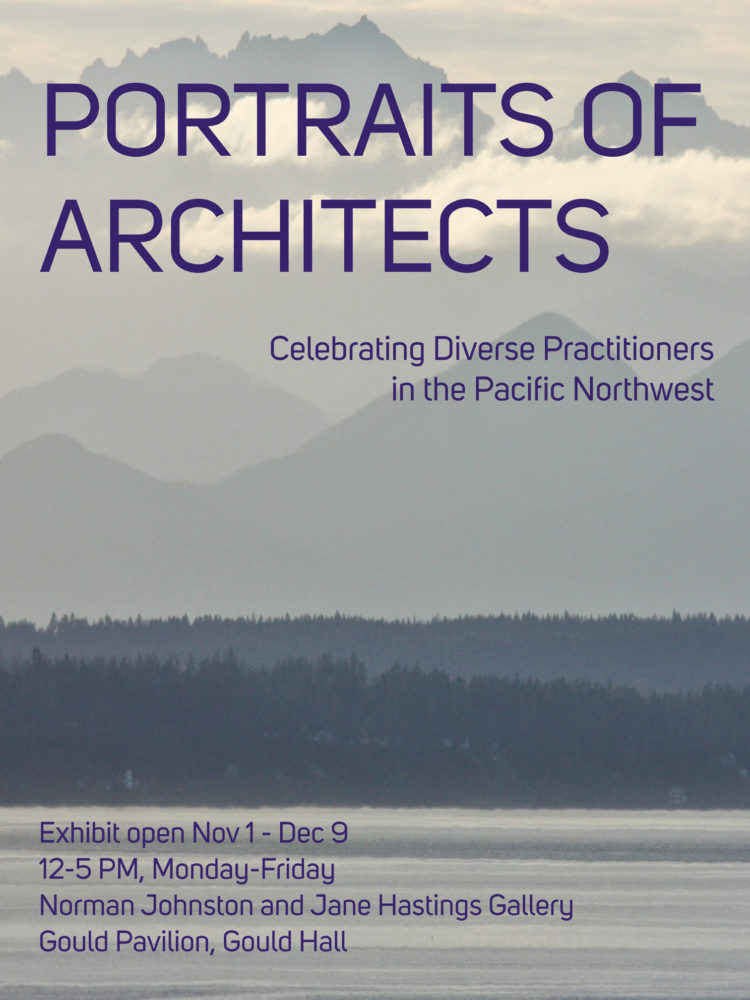 The Seattle chapter of the American Institute of Architects (AIA) brought together two exhibits to be displayed in Gould Pavilion. AIA Seattle's Women in Design group's "Portraits of Women Fellows" – part of the 2015 Seattle Design Festival, with the AIA Seattle Diversity Roundtable "Portraits of Diverse Fellows" – displayed at the Center for Architecture and Design.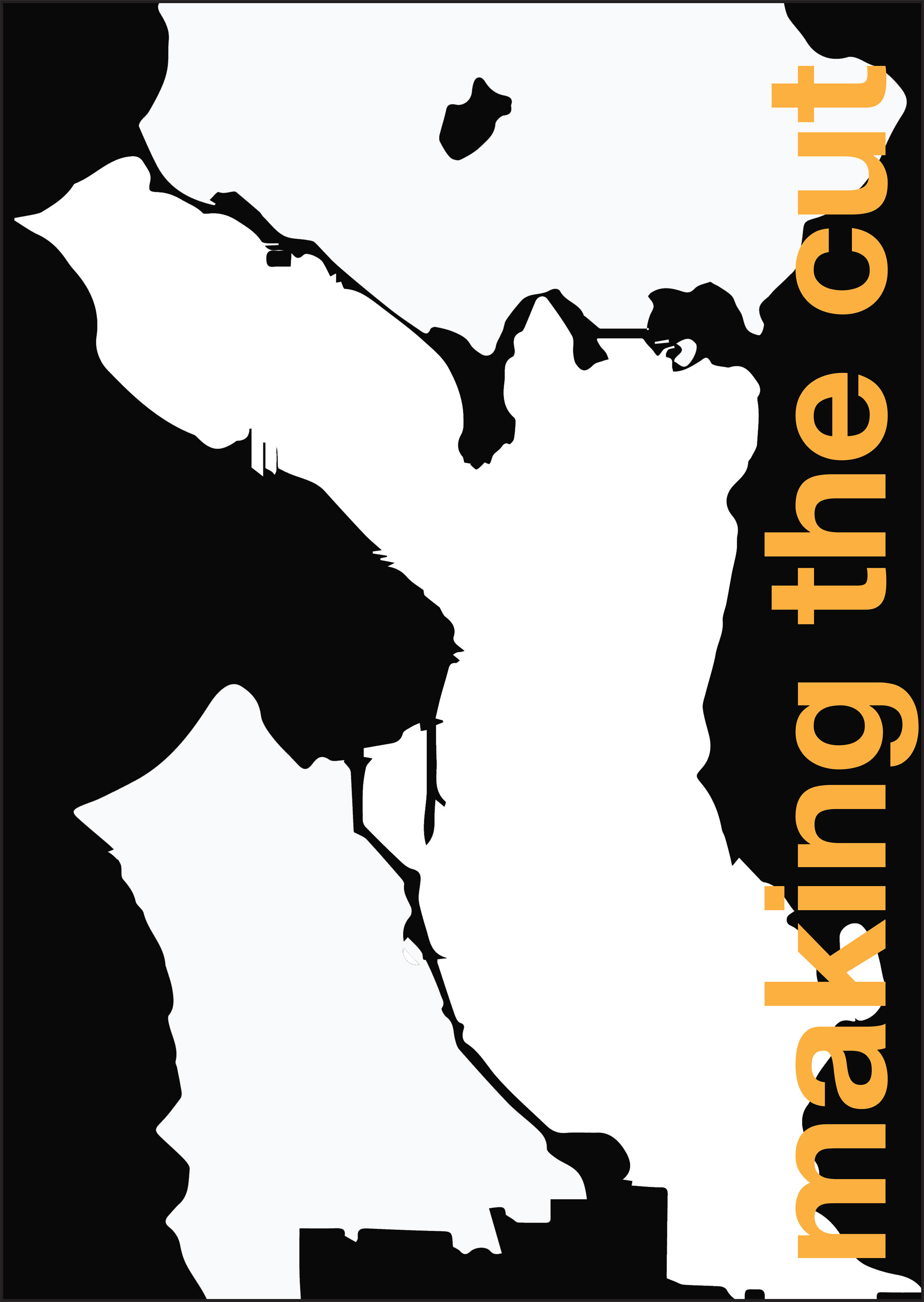 Cartographic Imaginations: Exploring Spatial Narratives
March 1 – April 27, 2016
Maps have long been critical for comprehending the spatial qualities of our lives. Within the field of landscape architecture, maps are commonly used to delineate, scope, and frame the geographic extents of a given project or territorial exploration.
Making the Cut was an exhibit developed by students in an advanced graduate studio in the Department of Landscape Architecture titled, Cartographic Imaginations: Exploring Spatial Narratives. The studio used the act of mapping to generate spatially-bound diagrammatic explorations of the built environment that explore the complexities, boundaries and perception of place and community in contemporary terms and through time. Engaging with emerging theory in landscape architecture and critical cartography the students worked to develop representational processes for moving beyond static conceptions of landscape, to engage in the mapping of flows, boundary breaks, and state changes whether social, cultural, ecological, or physical. In particular, the exhibit was developed through the deep examination of the Montlake Cut, a narrow strip of water connecting Union Bay on Lake Washington to the east with Portage Bay on Lake Union to the west. An area once called sxWátSadweehL – "Carry a Canoe" – the canal was cut between the two lakes to more directly connect Lake Washington with the Puget Sound in an effort to facilitate trade and commerce in the region. As part of the larger Lake Washington Ship Canal project it was the final component in what resulted in a massive hydrologic reordering of the region.
Making the Cut commemorated the centennial of the 1916 – 1917 opening of the Montlake cut and the Lake Washington Ship Canal. The individual projects that comprise the exhibit explore many of the untold, forgotten, and legacy histories of this dramatic event.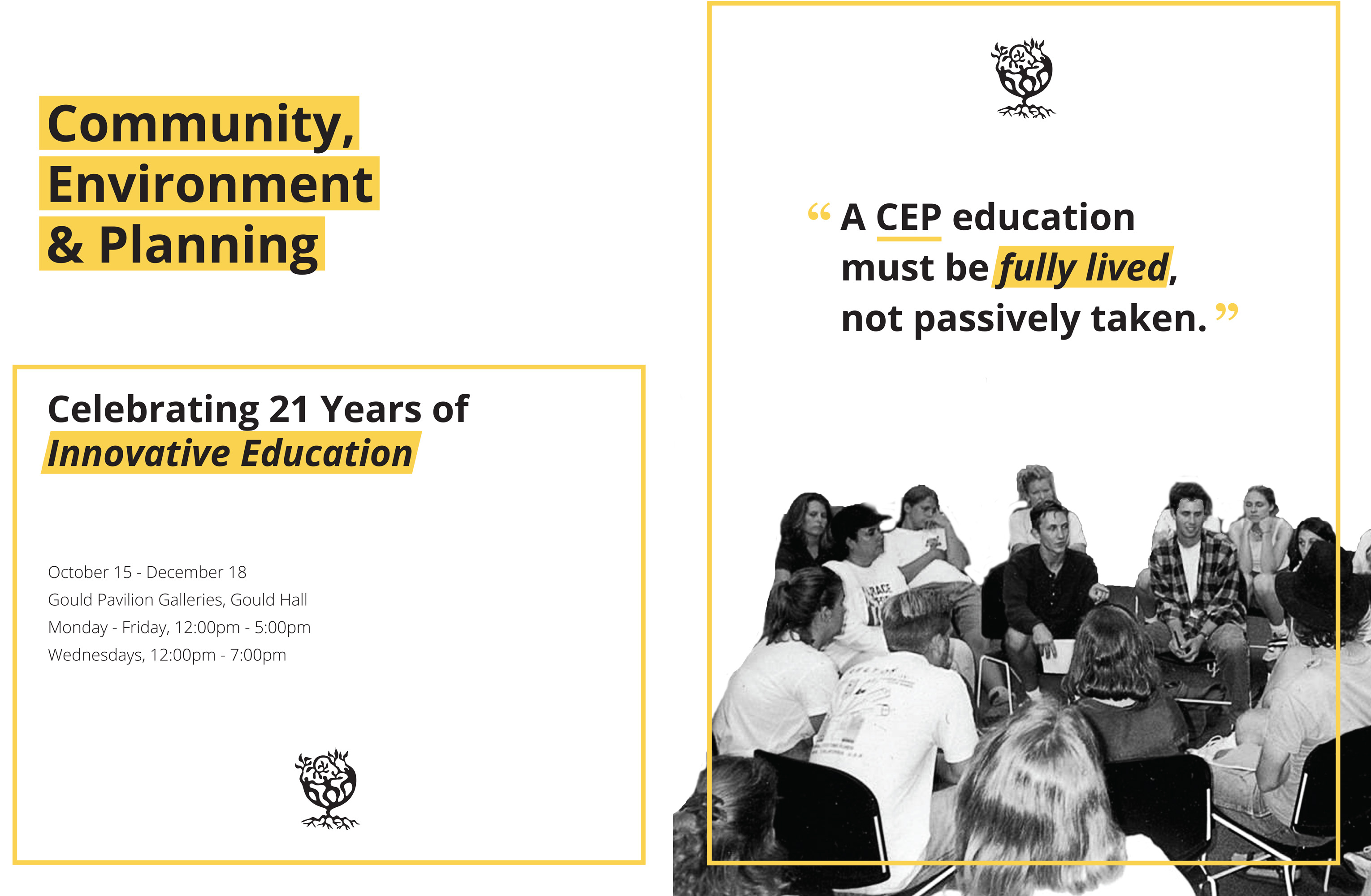 October 15 – December 4, 2015
May 27 – June 19, 2015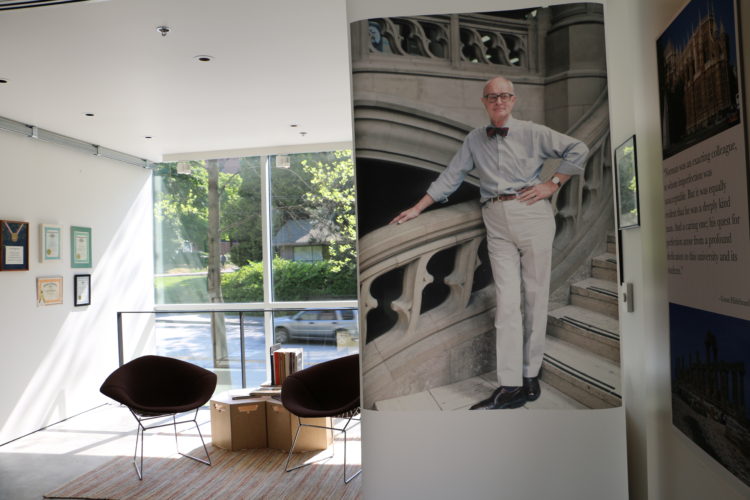 Academician, activist, architect, artist, historian, mentor, organizer, sage, scholar, traveler, teacher, tour guide, tutor

The scholarship and achievements of Professor Norman J. Johnston explored and celebrated. A professor of architecture, Johnston was a known UW campus historian, who wrote a number of books and essays, including "The Fountain and the Mountain: The University of Washington 1985-1995". The exhibit featured photographs, work, and reflections from colleagues and friends. Professor Johnston contributed tens of thousands of images to the College of Built Environments Visual Resource Collection to support the scholarship of faculty and students.
Jim Olson and Alan Maskin
March 4 – May 20, 2016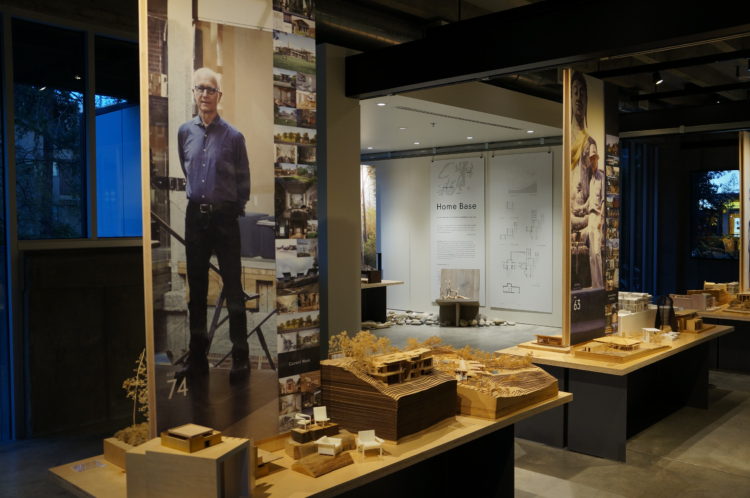 Home Base presents an intimate portrait of architect Jim Olson, '63 and his architectural legacy. The exhibit begins with Olson's first project in 1959 and continues through his ongoing work for clients in the region, nationally, and across the globe. At the age of 18, Olson began work on a bunkhouse for his family in Longbranch, Washington. For almost six decades, he has continued to expand the small structure into both a private retreat and touchpoint for his professional work. Home Base documents the design and redesign of this project over 56 years through Olson's collection of photos, architectural models, sketches and selected ephemera. The exhibit focuses on four major junctions of Olson's life – age 18, 41, 61, and 74 – with each iteration making a point of evolution in his artistic journey.
Suyama Peterson Deguchi
January 14 – February 22, 2016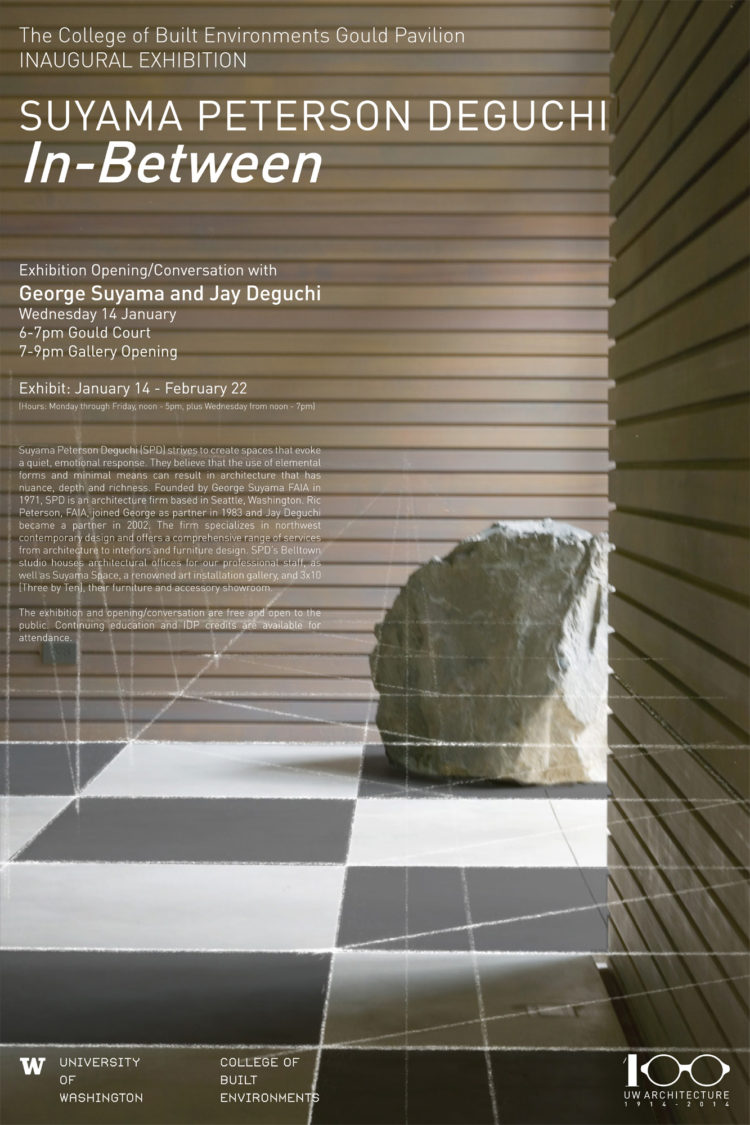 Suyama Peterson Deguchi strives to create spaces that evoke a quiet, emotional response. Through the use of elemental forms and minimal means, their designs result in an architecture that has nuance, depth, and richness. Founded in 1971 by George Suyama, FAIA, the firm grew with the addition of Ric Peterson, FAIA in 1983 and Jay Deguchi in 2002. The firm is known for specializing in northwest contemporary designs.