Built Environments Prospective Student Day
Build your future at the University of Washington
Welcome from Dean Cheng
I am happy you are here!  We in CBE are excited to have you join us as we propel thoughtful, innovative research, design and professional work within the built environments. Our college, with its five distinct disciplines and strong partnerships with industry professionals and community, is primed to lead the way in discovering solutions to some of the biggest challenges we face as a society.
Thank you for joining us, and I hope you enjoy our Virtual Visit Day.
Architecture
The Department of Architecture is the oldest and largest unit in the CBE, founded in 1914 and continuing through the years to offer a rigorous design education. We advance the discipline and practice of architecture by educating architects who are responsive and responsible to society, culture and the environment; advancing architectural knowledge through research, scholarship, and critical practice; using this knowledge to benefit local, regional, national and global communities. We value excellence in research and teaching, the traditions of architecture within the context of social and technological change, the continuing legacy of craft in the making of architecture, an activist and community-based design process, and ethical action to address human and environmental concerns.
Broadly speaking, we value excellence in research and teaching, the traditions of architecture within the context of social and technological change, the continuing legacy of craft in the making of architecture, an activist and community-based design process, and ethical action to address human and environmental concerns. We especially value our role in a multidisciplinary college within an urban public research university that critically engages the city as a physical, cultural and ecological system. In addition, we embrace diversity broadly construed to include the range of our research and teaching interests as well as the composition of our faculty and student body.
To learn more about our department, please join our Virtual Open House, which will include faculty presentations, and opportunities to chat with current students and recent alumni. We encourage you to check it out, and look forward to meeting you!
Construction Management
Our Masters of Construction Management (CM) program prepares leaders in the built environment who engage where business, design, and engineering meet. Prepared through robust industry partnerships, broad impact research, and innovative course offerings, our graduates are ready to lead using skills from project management to operational strategy to building information management (BIM).
Over the past 50 years, our Department has built a legacy of excellence by educating over 2,500 students. We do this in partnership with the construction industry that provides advice, mentoring, research, scholarships, and career opportunities for our students.  Some of our successes are categorized as a 100% placement rate, student competition awards, and an award-winning faculty. Our energetic students, exceptional faculty, dedicated staff, generous alumni, and industry partners work together to provide you with one of the most innovative and challenging Construction Management programs in the country.
**The Construction Management program has rolling information sessions.
Landscape Architecture
The University of Washington's Department of Landscape Architecture is at the leading edge of education in the discipline, utilizing a framework of Urban Ecological Design to engage contemporary societal and environmental challenges, explore interdisciplinary opportunities, incorporate methods of community-infused design, and address social injustice through our research, teaching and community service. 
We promote a design practice that is socially, ecologically, and aesthetically grounded, intended to improve ecological functioning, preserve histories of cultural significance, and foster more resilient approaches to design and management of our built environments. As a framework, we believe Urban Ecological Design has emerged as a critical approach for cities and urbanizing regions in the 21st century.
Join us for our Virtual Open House to learn more about our program, our departmental pillars and the exciting and innovative research taking place here. Our Open House will include opportunities to speak with faculty, current students, and recent alumni. We look forward to meeting you!
Real Estate
The Runstad Department of Real Estate leverages the strengths of the University of Washington and our location in a global hub of innovation. We aspire to be a leader addressing key real estate and built environment challenges by educating future real estate professionals; producing relevant research; and engaging the community to create sustainable built environments through real estate investment, development and management. 
A degree from the Runstad Department of Real Estate prepares students for a variety of roles in the diverse real estate industry including roles in the commercial and residential real estate markets. Our alumni perform these roles for public, private and non-profit organizations. These connections not only help to define us as a department but also enhance the learning experiences of our students.
Urban Design & Planning
Our Masters of Urban Planning (or MUP) program is built on the idea that urban design and planning sit at intersection of many different topics, issues and disciplines. We believe that investing in our own communities through studios and community-based projects is the best way to approach this new urban age we are living in, successfully, strategically and effectively.
Being a part of Seattle, a city rich with urban design and planning opportunities, programs and projects, you get to build your education – and launch your career – around the community you live in.
Join us virtually to learn more about our renowned  program, our mission, and the opportunities you have as students in our program. We're looking forward to meeting you!
BE Ph.D.
The PhD in the Built Environment is an interdisciplinary program incorporating subject areas and faculty from the College of Built Environments' areas of study: architecture, construction management, landscape architecture, urban design and planning, and real estate; and has three areas of concentration/specialization: sustainable systems and prototypes, technology and project design-delivery, and history, theory, representation.
The PhD in the Built Environment program does not hold Prospective Students' Day events but we encourage you to explore the college resources listed below. Please contact the program if you have questions about the college or the program: bephd@uw.edu.
Strategic Framework
The CBE Strategic Framework is the culmination of a robust and highly collaborative process that expands our ambitions as a college, reflects our vision and our work, reflects our common goals, and acts as a framework for action. This Strategic Framework describes a vision for elevating CBE's excellent work to reach even higher levels of quality that are ever more broadly recognized. The Framework is nuanced to reflect the diverse range of our complementary methodologies and disciplines, yet we propose a singular focus:  working collaboratively across our disciplines to realize a more just and beautiful world.  Read all about it – where we've been, where we are, and where we're going here:
Equity, Diversity & Inclusion
At CBE we believe that Equity, Diversity, and Inclusion (EDI) are essential to meeting our goal of a more just and beautiful world. CBE is engaging in a strategic and developmental approach using the IDI to build the College's intercultural competence in order to achieve its EDI goals.
Learn more about our commitment here: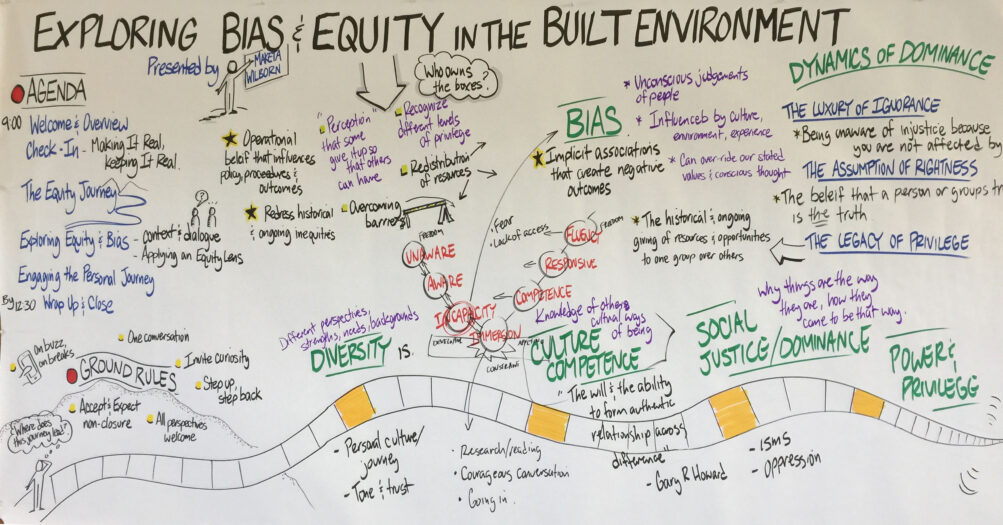 Office of Research
The College of Built Environments is home to over 100 active researchers, and over 65 Principal Investigators (PIs) across the five departments of Architecture; Construction Management; Landscape Architecture; Real Estate; and Urban Design and Planning.
CBE scholars actively engage in developing new knowledge and applied understanding in topics ranging from arts and culture to carbon sequestration and historic preservation to urban modeling, with bold thought leadership on the topics of climate adaptation; equity, inclusion and justice; and health and wellbeing. The CBE research community is supported by over $5.5 million on research funding per year on average, working with federal, state and local agencies; private firms and foundations; and nonprofits and community organizations.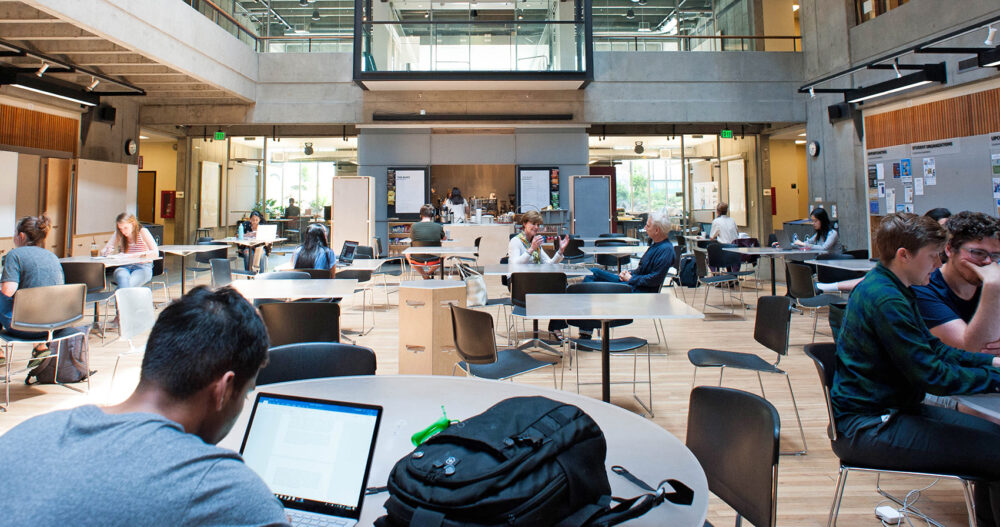 Virtual CBE Tour
Take a look at our Makerspaces, Labs, Digital Commons, BE Library, Studios, Classrooms, and Gould Court where we celebrate our work and community.
FabLab Tour
Join Associate Professor and Fabrication Lab Faculty Advisor Kimo Griggs' tour of the Built Environments Fabrication Labs, including the Wood Lab, Metal Lab, and Digital Hub. See what our maker spaces have to offer!